CodeTwo Exchange Migration
Seamless migration to Exchange
2010, 2013, 2016 and 2019
Used by 10k+ organizations from 150 countries
Customer Case Study
BDS Solutions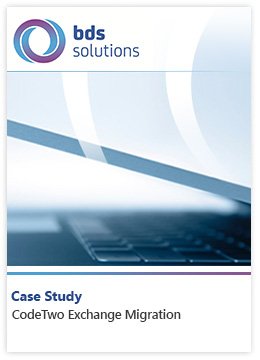 Company description
BDS Solutions is a company providing IT solutions of high quality to National Health Service and other healthcare organizations in the United Kingdom. The company specializes in migrations of large public-sector institutions to an Exchange platform.
Problem
The major problem for BDS Solutions was the lack of a migration tool that would support Exchange Web Services (EWS). Because of the nature of their clients' environments, which have vast amounts of data, this functionality was a must. Having this in mind, BDS Solutions decided to look for a program that would meet organization's requirements and help them finish a large migration project for a government client (not disclosed).
Solution
The representative of BDS Solutions, Nick Goodland, was already familiar with CodeTwo migration tools. After a thorough evaluation of programs supporting EWS, CodeTwo Exchange Migration stepped into the spotlight. As the program met the company's requirements, they decided to implement it and use for the aforesaid large-scale migration project, which involved over 20,000 mailboxes. When asked about the first impression the software made on them, Mr. Goodland noted that CodeTwo migration tool "clearly laid out with very good dynamic information provided to the operator." He also concluded that CodeTwo Exchange Migration is an "excellent quality tool at prices affordable for large-scale programmes of work", which was especially important for running huge data migrations. Using CodeTwo migration software helped BDS Solutions extend their toolset and provide effective management services for public sector organizations.
Summary
| | |
| --- | --- |
| Company name | BDS Solutions |
| Number of employees | 40 (providing directory and email solutions to 250,000+ users) |
| Number of emails processed every day | Estimated 1,000,000+ |
| Problem | Organization's toolset did not support EWS migrations. |
| Solution | CodeTwo Exchange Migration |
| Number of migrated mailboxes | 20,000+ mailboxes |
| Implementation time | 3 months |