As the New Year is knocking at the door, we don't put our feet up and prepare for the celebration but continue to work on improvements in our Exchange Server and Office 365 migration tools. As promised in our recent blog post, we have just implemented new features in CodeTwo Exchange Migration and CodeTwo Office 365 Migration. New updated versions of both applications are already available for download on our website. The biggest improvement is the user-desired Scheduler feature, allowing you to schedule time frames for your migration batches.

New Scheduler feature in CodeTwo migration tools
Migrating large amounts of data between servers is a long and complex project to perform. The process of copying user data to another location is time consuming and often causes network overloads. For that reason many system engineers who deal with Exchange Server and Office 365 migrations prefer to migrate their data overnight, or during weekends when users are not at work. This is where the new feature of our migration tools comes into play. The new Scheduler option will let you set exact hours when the mailbox migration is performed during the week allowing you to go home, while the program does its job automatically.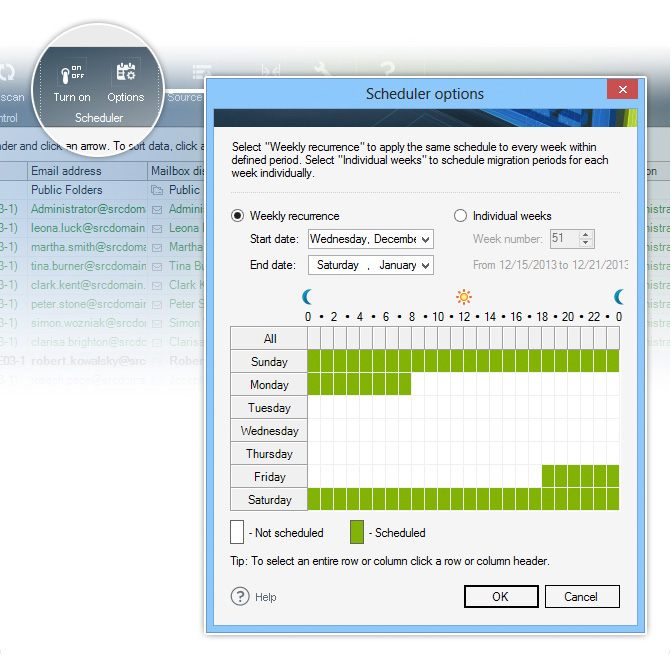 The new option is easily accessible from the program's main menu. After clicking on the Options button you can set the migration to be triggered on certain days or hours during the entire week. The clean calendar view will help you plan your migration hours properly, also on recurring dates. Clicking OK and turning on the Scheduler will launch the countdown to the start of the nearest migration batch. From now on the program will copy users' mailboxes to the new location according to the Scheduler's settings.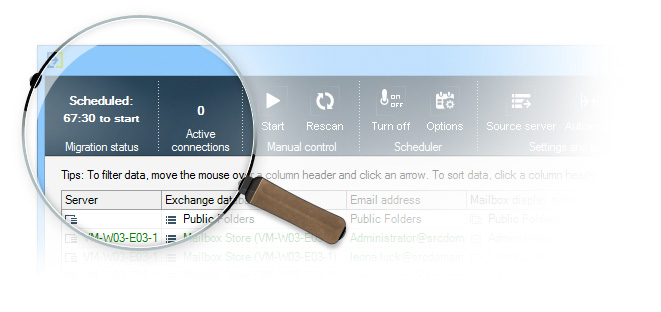 Seamless migration to Exchange Server and Office 365
CodeTwo Exchange Migration and CodeTwo Office 365 Migration are easy-to-use and cost-effective migration tools that allow for direct migrations to Exchange Server and Office 365. Both programs solve many common migration problems, e.g. direct migration from Exchange 2007 to Exchange 2016, moving users' mailboxes between two different Exchange Server forests, or migrating emails, calendars and contacts from Google Apps to Office 365. At the same time both applications were designed to give the administrator the maximum comfort during the migration, offering automatic configuration wizards, the ability to match mailboxes on both servers in bulk, or the newly arrived Scheduler feature.
If you plan to migrate to Exchange Server or Office 365 anytime soon, feel free to test CodeTwo Exchange Migration and CodeTwo Office 365 Migration now. Should you run into any problems, we've got your back! Full technical assistance during the program's configuration process is offered completely free of charge.
More about CodeTwo Exchange Migration
More about CodeTwo Office 365 Migration