This post was first published on May 17, 2013 and updated on January 15, 2018.
Moving to the Cloud environment is no longer sci-fi – it is a reality. When more and more companies are transferring to Office 365, more administrators are asking the question "Are we safe there? Do we still need to do a backup of our critical data?" Others do not even bother asking, trusting that globally dispersed Microsoft datacenters are ensuring full safety of company's data.
In the following blog post, I'll try to answer these questions and check the native data backup and preservation options available in MS Office 365 plans.
It may appear a bit surprising, but there is no backup option available in Office 365 in the traditional sense of the word – not in the form administrators could remember from the on-premises environments. Microsoft concluded that since all information is stored in their datacenters, which provide a super-safe environment, there is no need for such a functionality. Period.
On the other hand, MS is not a charity organization, and storage room on their servers comes with a price. The price changes across different Office 365 plans.
So how exactly Office 365 stores my data? What happens when storage is up?
All mailboxes across practically all plans have a storage limit of 50 GB (F1 plan has only 2 GB), which seems to be more than enough. However, a message itself – even very small – can carry something that really pumps up the size of the inbox – it is an email's attachment. Therefore, 50 GB might be an ocean of storage for text, but not necessarily for those numerous PDF, zip and BMP attachments.
So when the amount of data stored in the mailbox reaches, e.g. the 49.5 GB threshold, the user of that mailbox receives a warning message saying that it is a final moment to get rid of some gigs. This should blink an amber light to start cleaning things up.
Lastly, when the final frontier (50 GB) is reached, you will not be able to send and receive any emails.
The image below depicts the way the item travels through the mailbox – from the inbox to the dumpster – before it vanishes into thin air forever.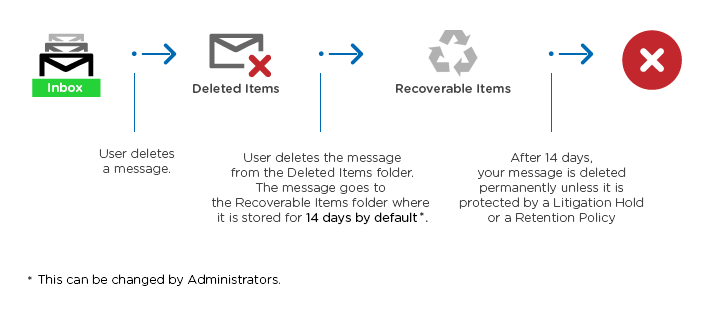 When the item is deleted from the mailbox, it goes to the Deleted Items folder. According to new default retention policy settings, the item will be stored there to the moment when you decide to remove it (or when you customize the default retention policy to remove items after, e.g., 30 days). If the Deleted Items folder is emptied, the items are moved to the Recoverable Items folder where they are stored for 14 days by default (it can be changed) – after that period they disappear irrecoverably (unless you had a chance to put a mailbox on In-Place Hold or Litigation Hold).
The Recoverable Items folder preserves deleted elements for a certain period of time depending on a retention policy set for this folder. Retention policy is an automatic service that removes items from the mailbox after a specified amount of time. In other words, the retention service checks the "age" of each item in the mailbox, and depending on the specified limit removes it from the mailbox storage.
I don't want to delete anything – I want to archive!
Archiving items from the mailbox is a good method of reducing the mailbox size and freeing some space up. Luckily, this feature is also available in Office 365. Check the table below to see how it works across different plans.
*Office 365 K (Kiosk) Plans are now Office 365 F (Firstline Worker) Plans
Terms used in the table:
Storage quota – in this article it refers to the available storage room on the server assigned to a specific account. For instance, quota of 50 GB per mailbox/archive means that this is total available room for all items and folders within one mailbox (free space is shared between archive and primary mailbox).
Archiving – with this feature enabled for the Office 365 mailbox, the default retention policy moves messages older than 2 years to the special archive mailbox for preservation.
Retention policy –an automatic service that either removes or prevents removal of items from the mailbox after a specified amount of time. It applies to different folders, including archive mailbox, dumpster etc.
In-Place Hold / Litigation Hold – if your company is involved in any legal actions, and certain authorities require preserving unaltered data from the specific mailbox, you can put that mailbox on Litigation Hold or In-Place Hold. When enabled, this feature stores all items indefinitely including deleted items in the Recoverable Items folder. Additionally, the dumpster also keeps all changed items from the primary mailbox (versioning of items).
When it comes to other Office 365 plans, for example E1 plan, the limit of 50 GB is shared between the primary mailbox and archive. It means that when you decide to archive some emails in order to free some space in your mailbox, it won't work as you are just pushing messages from one pile to another without actually freeing any space in your mailbox.
Only E3 and E4 plans give you a real archive. It is separate from your primary mailbox storage quota, and it has unlimited capacity. Simply pay more for higher tiered plan, which is 10 000 USD per month for 500 users in E3 (compared to 4000 USD per month for 500 users in E1 plan). Another option is to get a separate Exchange Online Archiving license, which would add 1500 USD per month for 500 users.
What else can I do?
One of the options here is to put a mailbox on Litigation Hold as this would keep all data in the Recoverable Items folder permanently (no retention time imposed) and without a storage limit (no quota). However, this option has been created solely for the legal actions in your company, and it is available only in plans E3 and higher.
Another possibility would be to use a shared mailbox to store old emails from your primary mailbox. This can be even more appealing as shared mailboxes do not require any additional fees or an extra license. This alternative, however, has some drawbacks, e.g. you will not be able to access the shared mailbox directly as it does not have username and password – only via a licensed user's mailbox (note: this workaround is not available for Office 365 Enterprise F1 (Firstline Worker) plan).
There is a last resort, which is saving an Office 365 mailbox to a PST file. However, there is a catch – you can do only one mailbox at a time and you can't use OWA. There are no fancy PowerShell cmdlets for that purpose, so if you need to save 50 mailboxes, get ready to do some overtime.
Need to back up your data to your own on-premises servers?
There circulate an opinion that with Office 365 and with the dawn of the cloud computing, regular backups are outdated, but perhaps not every administrator shares this feeling. Some admins would still sleep more peacefully when they know that the business data is absolutely safe. Although Office 365 data is super safe within Microsoft's datacenters, you will not be able to retrieve any of your data if it is lost because of a failure on your side.
For those companies who for security, legal or other reasons need to back up Office 365 data to their own local drives, we have prepared a smart backup and archiving tool that will help you prevent some troubles caused by data loss. Click here if you would like to find out more.
Related topics