Exchange public folders are a great enhancement of co-operation and work efficiency in companies that run Exchange Server. Thanks to them you can view common calendars, read company mail and work with shared company contacts. All these things work great when you're on Microsoft Outlook with a full access to your Exchange account, but there are some limitations though. For instance, if your workflow requires a bit of automation, e.g. synchronizing data between Exchange folders without users' interference, or you need to use a less advanced mail client, e.g. an Active Sync smartphone, you're in a pickle.
Let us show you how to easily apply automatic folder synchronization tasks on Microsoft Exchange Server with CodeTwo Exchange Sync. This easy-to-use, but yet powerful application, will let you synchronize data between various types of Exchange folders, in real time and in many different ways.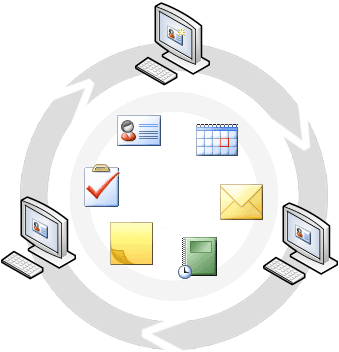 Things shown in this article will help you:
Synchronize public folders with users' private Exchange folders.
Synchronize Exchange public folders with Android, iPhone, iPad and other mobile devices.
Update many private Exchange calendars from one place.
… and a whole lot more.