We have just released an update to CodeTwo Exchange Sync. Version 2.8.2.15 is now available for download on our website. The release includes a number of bug fixes handling issues reported by our users. Make sure to check the full version history of our product as well.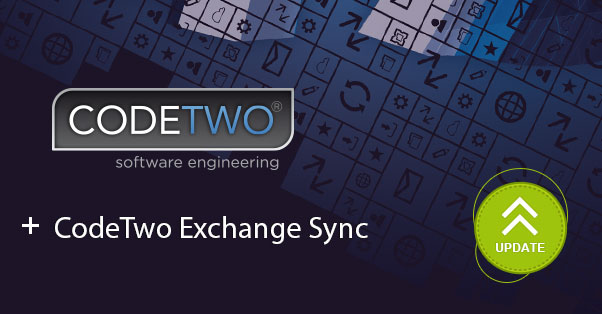 The key fixes:
Fixed: The subjects of synced items were not always up to date. Even if the program was configured to modify items' subjects automatically
Fixed: Not all of the items were synchronized in case many of them were created in a short time span
Fixed: Synchronization stopped occasionally, mostly due to the failure of the connection with Exchange server. To continue with synchronization, the server had to be restarted
Fixed: The program could not connect to the server if its AD attributes did not include information of the MS Exchange Server version.
CodeTwo Exchange Sync update is highly recommended as it will result in software performance improvement. Update your software immediately or learn more about the process.
What is CodeTwo Exchange Sync?
CodeTwo Exchange Sync is an Exchange Server data synchronization tool. It enables Microsoft Exchange Server folders' real-time synchronization, allowing you to create group calendars and other common items.
The synchronization can fulfill various source-target scenarios, for example, replicate files from one folder to many, many-to-one, as well as from many-to-many. Synchronized items can be filtered and modified during the replication. The solution is widely known for its administrative purposes, as it enables users to synchronize their public folders with mobile devices or to create an automatically updated group calendar on Exchange.
Visit CodeTwo Exchange Sync official webpage to learn more.