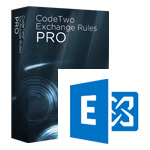 Our multipurpose tool for MS Exchange has been updated – CodeTwo Exchange Rules Pro v. 1.4.9 introduces Microsoft Exchange Server 2013 support.
Now also administrators of Exchange 2013 can benefit from:
personalized email signatures and disclaimers while retaining unified company look
the solid integration of graphic parts (e.g. user photo, promotion banners) with the email footer
advanced management of email attachments (compression, archiving, stripping, etc.)
smart email forwarding and rerouting
central management of out of office notifications
full control and supervision of email content (DLP), including data protection and SPAM filtering
separate module for remote program management
and more…
The latest version of the program can be downloaded from our website. For all license holders (CodeTwo Exchange Rules Pro v. 1.x) the update is completely free of charge.
CodeTwo Exchange Rules Pro v. 1.4.9 – Download
The installation wizard automatically detects and updates your current installation of the program. All your settings and templates are preserved.
For more information check a detailed guide on how to update CodeTwo programs.
CodeTwo Exchange Rules Pro – to the program website
CodeTwo – to the main page