What's the name of the biggest conference that Microsoft holds for its partner community? Ever since last year, it's Microsoft Inspire, but you may also know it by a different name, used between 2003 and 2016: Microsoft Worldwide Partner Conference (WPC). And yes, CodeTwo will be there, too!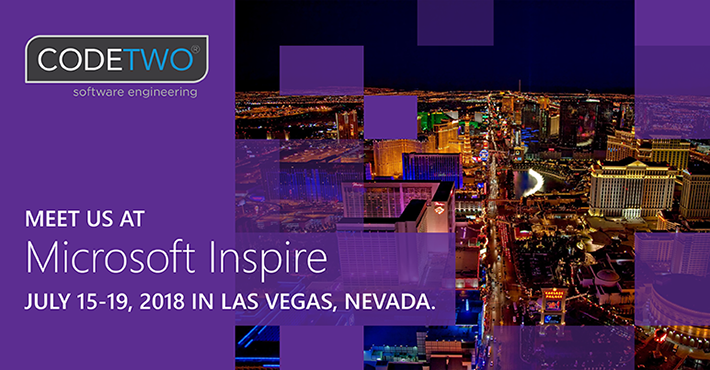 Microsoft Inspire 2018 will take place July 15-19 at Mandalay Bay Convention Center and T-Mobile Arena in Las Vegas, Nevada. This year, however, the entertainment capital of the world will host not one, but two biggest conferences held by Microsoft. Yes, Microsoft Ready 2018, the corporation's internal sales, marketing and technical kick-off event, will also be taking place there, at the same time! There can be no better opportunity for Microsoft employees and partners to meet, share knowledge and establish cooperation among themselves to come up with new and inspiring solutions!
And inspire is the key word here. There are expected to be over 15,000 attendees from all corners of the world and over 600 sessions on topics such as cloud app development, security and compliance, Microsoft Partner Network, modern workplace transformation, talent acquisition, and a dozen more! Surely plenty to choose from for developers, IT admins, as well as sales, marketing, and HR specialists.
Of course, we cannot let this opportunity pass us by. We will be attending the conference both to inspire and get inspired. Be sure to see the live presentation of our email signature management, migration and backup solutions for Office 365 and on-prem Exchange, including our innovative and award-winning tool: CodeTwo Email Signatures for Office 365.
Make sure to drop by our booth for a chat and to exchange ideas on solutions for Office 365 and Azure.
See you in Vegas!