UPDATE: We are sorry, but CodeTwo Public Folders mentioned in this article has been discontinued. You can check the list of currently available CodeTwo products here.
If you use Outlook in your everyday work, sharing its folders between different computers can completely change your working experience and increase your overall productivity. Now, synchronizing Outlook between 2 computers has become a lot easier than it was before. This is because our popular Outlook sharing plugin, CodeTwo Outlook Sync has just become a free tool. No trial period, no ads, or strings attached. Simply download it and enjoy its benefits for free!
What is CodeTwo Outlook Sync?
There are many programs and add-ins designed to make Microsoft Outlook more powerful than it already is. CodeTwo Outlook Sync belongs to this group, but it certainly does stand out in the crowd. Why? Because it is the most powerful application allowing to synchronize Outlook between two computers in real-time. And now it's completely free!
CodeTwo Outlook Sync synchronizes Outlook clients on two computers in the same local network. You can share emails, calendars, contacts, tasks, notes… in fact, any item in any Outlook folder. Watch the video below for a quick overview: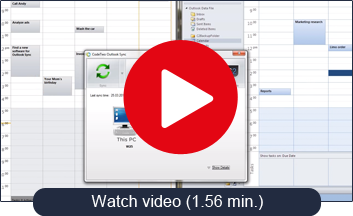 If you are not sure about practical applications of CodeTwo Outlook Sync, here are some examples:
Sync your laptop and PC so that they are always up to date. Even when you take your laptop away from the local network, all the data will be updated as soon as the machines connect to the same local network.
Share data between different email accounts. You can easily plan meetings for a co-worker and manage a shared calendar. Managing your boss's schedule could not be easier!
Backup all important information to another computer, so that you can restore it when needed.
Share all mailbox items with your teammate, so that you can cooperate like a single organism. You can, for example, get the same emails and know which emails are already answered. You can also share schedules and tasks to know your availability and track progress of your work.
With the latest release, CodeTwo Outlook Sync becomes completely free. It has no longer a free trial – you can use it for how long you want with all its features unblocked.
Learn more about CodeTwo Outlook Sync
Download CodeTwo Outlook Sync
Syncing more computers
CodeTwo Outlook Sync is a perfect solution if you need to sync Outlook between two computers. If you need to sync more computers, check out CodeTwo Public Folders. It can sync many users at once, comes with an easy to use File Sharing App, and is not limited to local network. You can download a free 30-day trial to test its functionality.