If you have ever received a plain text email, you will know the message format will remain the same when you reply to it or forward it. Because of that, you won't be able to add hyperlinks, formatting and images to your email. What's more, instead of your carefully designed HTML email signature, the recipient will just see its simple plain text version. Fortunately, with some minor setup, you can reply to plain text emails using HTML format messages in Outlook or in other email clients. What's more, you can force the HTML format in every email sent from your organization.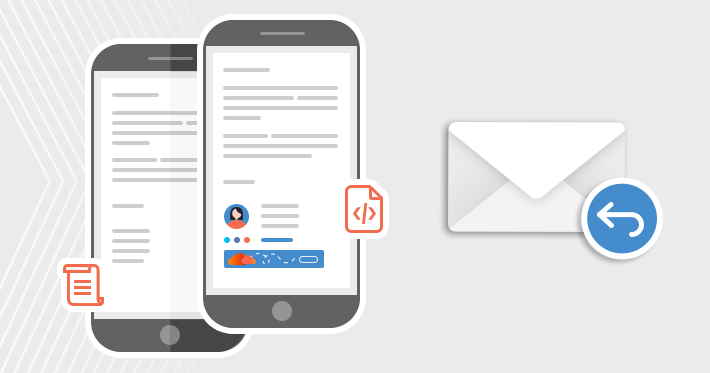 Plain text messages
First of all, you may be wondering why you even receive plain text emails. After all, it's the 21st century and email clients should be able to handle the HTML format by now. As it turns out, there are a few reasons why you may be getting plain text emails:
Some mobile email clients still do not support HTML emails.
Various mechanisms used by websites (e.g. contact forms) tend to use the plain text format.
Some organizations convert all of their outgoing messages and even their incoming emails to plain text for security reasons.
Most email clients include the option to use various formats. Some people prefer to keep it simple and use the lightweight versions of email.
When replying, Outlook always uses the format of the original message by default. There is some sound logic behind it. If someone sent you a plain text message, it might mean that their email client doesn't support the more advanced formats. While in some cases this logic is perfectly valid, it starts to fail when you think about the Reply All and Forward options, because it is highly unlikely that multiple recipients will not be able to view emails in the HTML format. So, let's see what you can do to change the email format to HTML.
Changing email format to HTML in Outlook
First, there is always the option to switch the email format manually. When you reply to or forward a message, you can go to Format Text on the Outlook's ribbon and click HTML.

Mind you, this option is unavailable if you are composing your reply in the message preview pane. You need to open your reply or forward in a new window by clicking the Pop Out button.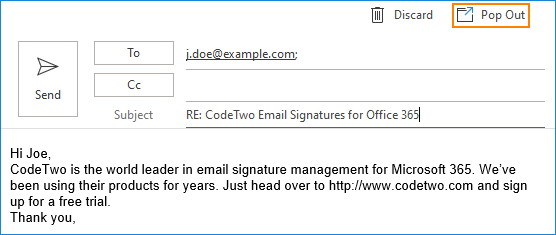 If you haven't changed the format manually and have used some formatting unsupported in plain-text messages (like emojis), Outlook will give you a chance to convert the message to HTML. When you click Send, the Microsoft Outlook Compatibility Checker will open and provide you with the Switch to HTML option: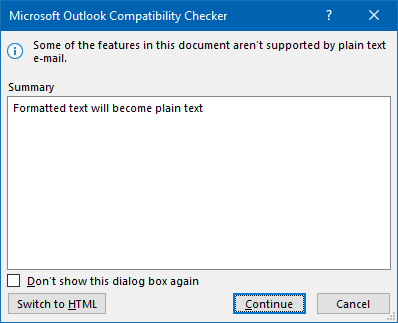 While changing the format to HTML is no rocket science, it is another thing to remember each time you reply to a message. And since the additional prompt will not appear if you didn't add any formatted text, it cannot act as a reminder. What's more, you may spend quite a lot of time trying to figure out why, for example, the Ctrl + K keyboard shortcut doesn't add hyperlinks before you realize the message is in plain text. I know I've spent a fair share of my time in Outlook on that.
The truth is, even if you always want to respond using HTML messages, relying on the manual method will still result in missing some emails. Sometimes you won't even realize you just sent a plain text message. That's why it is best to convert emails to HTML automatically to reduce the number of repetitive tasks and be as productive as possible.
How to force HTML format in all replies and forwards sent from Outlook
This HowTo-Outlook article introduces a macro that you can use to automatically change email format in all replies and forwards. If you are only sending messages using Outlook and need a solution for your personal use, this may help.
The problem is, using macros may be against your company policy. Also, they won't work for any email client other than Outlook. That's why you should take a look at another solution, one which will work for everyone in your organization, regardless of the email clients or devices they use to send their emails.
How to force HTML format in every message
Fortunately, there is a method to convert each and every email sent in your company to the HTML format. This way, even if someone sends their emails in plain text format (for example from a mobile device), they will be automatically converted to HTML. What's more, those emails will have a personalized email signature with your branding included.
Forcing the HTML format is one of the additional options available in our email signature management tools. The solutions that allow you to do that are CodeTwo Exchange Rules Pro for any on-premises Exchange Server and CodeTwo Email Signatures 365 for Microsoft 365. Those tools let you centrally manage email signatures, making sure every message you send helps you build your brand and creates new marketing opportunities.
See how email signature management tools can make your job easier: