[Update]: This article was updated on September 8, 2021.
Just as with every major release of a new Microsoft's OS, each IT geek in the world probably asks themselves a question: What may the new version have in store for its users? So, if you can't wait to learn about new and updated Windows 11 features, read this convenient summary to find all the news in one place.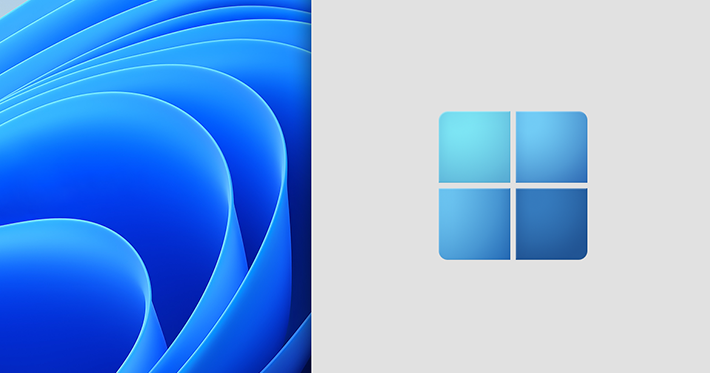 Windows 10, the latest publicly available release of the Microsoft's operating system for personal computing, has been with us for the last 6 years. Throughout this period, the OS has received about a dozen of major updates and become the most popular version of Windows worldwide, totaling up to 1.3 billion active devices. Compared to the previous versions, the Windows 10's lifecycle has been quite long, and its successor was officially announced as late as on June 24, 2021 when Panos Panay, Chief Product Officer, revealed Windows 11 during the live-streamed event.
Windows 11 has been announced to be generally available on October 5, 2021. It means that the free upgrade will begin rolling out to the eligible Windows 10 devices and devices with pre-installed Windows 11 OS will start to be available for purchase. When Windows 11 becomes generally available, you will be able to check if your device is eligible to receive the update by downloading the PC Health Check app from here and running the test. The roll-out process is expected to continue into 2022. And if you're enrolled in the Windows Insiders Program, you can try out Windows 11 even now.
Read on to learn about everything Microsoft has prepared for us or simply click any link from the menu below to quickly go to the topics that are the most exciting for you.
Administration
Let me begin with the topic that may or even should be the most important and exciting to you as IT administrators: administration.
Deployment
In the case of Windows 11, deployment is supposed to be an easy experience. It should be similar to what you know from Windows 10 and uses the same tools, such as Windows Update for Business, Microsoft Endpoint Manager or Windows Autopilot. According to Microsoft sources, deploying the new Microsoft's product to your users will not be any different from installing yet another Windows 10 update. Thanks to that, the process should not add any considerable burden to your IT management tasks which have already become more complex because of the pandemic. Because nothing bad ever happened after a Windows Update, right?
The recommended actions to prepare for Windows 11 deployment involve:
Using the dedicated tool I've mentioned in the introduction (PC Health Check app).
Joining the Release Preview Channel of the Windows Insider Program for Business. It will allow you to validate if your devices and apps work as expected.
Configuring Microsoft Endpoint Configuration Manager or Windows Server Update Services (WSUS) in a proper way. This will allow interested users to preview Windows 11.
Windows 365
Speaking about the Windows 11 deployment, I shouldn't forget to mention Windows 365. It's the brand-new approach to computing Microsoft is going to offer soon. The Windows 365 cloud service will allow you to run Windows 11 (as well as Windows 10) from the cloud on any device, using the hybrid power of the Microsoft Azure cloud and your local device. It introduces a new concept of Cloud PC, a device whose operating system and data are not stored locally but in the cloud.
According to Microsoft sources, Windows 365 will offer a number of advantages, some of them being of crucial importance to you as IT admins:
Firstly, Windows 365 will offer your users just enough power to get their job done – the cloud OS boots up instantly; the OS can stream all apps, data, settings, etc. to any device; organizations can match the available Windows 365 subscription offerings to suit their needs and scale the computing power as they wish.
Secondly, Windows 365 will be flexible – the OS can be used in any location, across all devices; users can quickly pick up where they left on a different device after logging in.
Thirdly, Windows 365 will be simple to use and manage – it will offer the experience you know from the traditional PC; deployment, management, and updates will be much easier to handle – no virtualization solution required; possibility to use Microsoft Endpoint Manager.
Finally, Windows 365 will be secure – it will comply with the security by design and Zero Trust principles; all the data will be stored in the Azure cloud which is managed by professionals and secured with the most modern solutions; the cloud OS will be always up-to-date.
That's why you should carefully consider if you still prefer the traditional model of deployment or would like to go with Windows 365 instead.
Similar to Office 365, Windows 365 is going to be offered in the subscription model based on per-user and per-month pricing. The Windows 365 release date is due on August 2, 2021. If you would like to learn more about Windows 365, visit the official Microsoft's website.
Management
Getting back to Windows 11, the new OS will continue to offer the same, proven IT management solutions plus will benefit from certain improvements.
Learning from the experience that semi-annual update cycle was sometimes too much, Microsoft has decided to change it to the annual one. As a result, a major update will be released every 12 months with 24-month support for Home and Pro editions, and 36-month support for Enterprise and Education ones. Quality updates' cycle remains unchanged – these will be released on a monthly basis to ensure the adequate level of security. This is certainly good news for all admins.
Another important aspect is the continued focus on app compatibility. Windows 11 was designed with compatibility in mind – in line with Microsoft's compatibility promise for Windows 10. Just like was the case with Windows 10, the App Assure service will support you in terms of making your apps work properly on Windows 11. Provided you have bought 150+ licenses for an eligible Microsoft 365 or Windows 11 plan, the Microsoft support team will help you at no extra cost. Additionally, you can still use the Microsoft 365 apps' testing environment called Test Base for Microsoft 365.
Finally, you will be able to use the management tools and/or services you already know from Windows 10 like Microsoft Endpoint Manager, cloud configuration, Windows Update for Business or Autopilot. Both versions of OS are to coexist for some time. So, in order to simplify the management, administrators will be able to control devices with both OSes using the same solutions. If you know them from Windows 10, you will surely feel at home when managing devices with Windows 11.
Security
Today's cybersecurity landscape has become quite complex with new threats evolving all the time and IT environments getting more difficult to manage due to the pandemic. That's why, with Windows 11, Microsoft puts security, especially hardware security, in the limelight. On top of that, the new OS continues to use the best solutions available in Windows 10 plus introduces certain security-related enhancements.
Windows 11 was designed according to the security by design principle. Since 2019 Microsoft has cooperated closely with hardware manufacturers to raise security baselines for firmware because more and more attacks are targeted at this so-far-security-divested layer. As a result, new Windows 11 compatible devices are to take full advantage of the Secured-core PC idea which is about applying best security practices of isolation and minimal trust to the firmware layer. This is also the reason why Trusted Platform Module 2.0 (TPM) is listed among the Windows 11 minimum system requirements. Ultimately, secured-core PCs are expected to be twice as resilient to threats as standard PCs.
Another improvement is the full support for the Zero Trust model. As the name speaks for itself, every access request in Windows 11 will be treated with suspicion and will require verification process involving authentication, authorization, and encryption. Also, when it comes to granting privileges, a user is always to be granted minimal level of privileges required for performing a given action.
With Windows 11, Microsoft has also simplified the deployment of Windows Hello for Business. Such an improvement gives your organization an easy access to this advanced, reliable, and secure method of authentication, while allowing you to go passwordless and thus mitigating the risks related to storing credentials, not to mention the convenience of the solution.
Finally, Microsoft implemented and improved all the advanced security solutions known from Windows 10 like Virtualization-Based Security (VBS) or Virus & threat protection which are to ensure data safety at all levels.
Work and learning
Now, I'm going to touch upon the topic that is of great importance to all of us. Windows 11 was developed during the pandemic, which truly impacted its path of development as far as work- and education-related features are concerned. Microsoft's employees experienced the pandemic just like all of us, and these experiences led them to create, as they say, an operating system designed for hybrid work and learning.
As we all know, Windows 10 introduced the ability to snap windows to improve productivity. With Windows 11, this feature has been further improved. Now, you can not only snap windows, but also use predefined snap layouts or groups, which speeds up your work or learning even further. What's more, Windows 11 remembers your snap layouts even if you undock and re-dock your device. To make the picture complete, I should also mention that you can define custom-tailored desktops for different everyday scenarios such as work, school, leisure, or gaming.
Another big game-changer is the integration with Microsoft Teams. As we all know, Teams has become an indispensable app for almost any professional or educational application. That's why Microsoft decided to integrate it with the Windows 11 taskbar. Now, you can chat or call any of your contacts in just two clicks, regardless of the platform they use Microsoft Teams on. But that's not the end of good news. Using Windows 11, you will be able to mute/unmute your mic and share desktop/app in Teams directly from the taskbar!
Finally, Windows 11 will offer enhancements to the voice recognition and inking features. Having a compatible device, you will be able to use these alternative methods of interaction with your PC in almost any app. And if you work or learn predominantly on tablet, you should be pleased with the news that the tablet mode will also be improved with more space between icons, bigger touch targets, resizing and moving action improvements, and new gestures.
Appearance
Appearance changes is something every end user immediately notices and appreciates (or learns to appreciate in time). Just like with any new Windows, the new version also introduces changes and/or improvements to UI.
Designing Windows 11, Microsoft wanted to make it both intuitive and modern at the same time. To achieve this, they preserved the best solutions from Windows 10, while offering a new design that is cleaner and easier to use, including fonts, icons and even sounds. The new looks is based on the Microsoft Fluent Design System language which is a revamped version of Microsoft Design Language (commonly referred to as Metro). As a result, when clicking through the new OS, you should feel confident and/or in control, while enjoying the OS's attractive appearance.
The Start button and the Start menu share a long story of updates – both in terms of appearance and functionality. With Windows 11, it couldn't be any different! This time, the button and icons of launched/pinned apps have been moved from the left to the center of the taskbar. The menu, as noted in the previous paragraph, now enjoys a cleaner design with clearly divided sections of pinned apps, recommended apps/files, and user/power options. The Metro-style tiles have been replaced with smaller modern app icons which resemble the ones we know from our smartphones. Everything looks neat and attractive.
Finally, Microsoft has redesigned Microsoft Store which is to play the role of your single trusted location for apps and multimedia content. The new design will not only be in line with the Windows 11's one, that is modern and intuitive, but also will positively influence the Store's performance which wasn't always optimal.
Other new features and improvements
Naturally, besides the areas discussed above, the new Microsoft's product introduces a bunch of novelties and improvements from different departments, some of them being truly awesome.
Support for Android apps
I'll begin with something huge: Windows 11 will be the first Microsoft's OS to run Android apps! Of course, the whole experience will be based on emulation, and we are yet to see the actual performance of the solution. Let's hope it will be an interesting feature and not just a gadget. From the technical point of view, the solution is based on Windows Subsystem for Android (WSA) and the Android Open Source Project (AOSP). You will be able to search for Android apps via the Microsoft Store and download them through the Amazon Appstore. Ultimately, the apps will be available to you from the Start menu – just like ordinary PC ones.
Widgets
With Windows 11, we will get an updated version of the feature we know from Windows 10 – the news feed window called Widgets. It will offer enhanced personalization (e.g. ability to add new widgets) and looks that is in line with the Windows 11 design. The feature will be powered by AI and Microsoft Edge. According to Microsoft's Panos Panay, the new feature is to be minimally distractive to a user and provide a perfect alternative to news feeds we know from our smartphones.
Microsoft Store
Now, I am getting back to the Microsoft Store for a while. It will not only list more apps, but also allow you to find interesting content more easily thanks to completely new curated stories and collections. Of course, you can also count on leading 3rd party apps like Adobe Creative Cloud suite or Zoom. And if you develop applications or create other content, you should be excited to learn that you will be able to keep 100% revenue from your products published in Microsoft Store if you use your own ecommerce platform instead of the one made available by Microsoft. The only category excluded from this new possibility will be games.
Gaming
And when speaking of games, gaming continues to be an important aspect of Microsoft Windows. The new OS will support DirectX 12 Ultimate and Auto HDR technologies to enrich gamers' visual and aural experience, as well as DirectStorage to ensure faster loading times. Microsoft also stresses its commitment to guarantee the highest level of compatibility with PC gaming accessories and peripherals. Last but not least, gamers should not get easily bored thanks to the continued Xbox Game Pass for PC or Ultimate offering which gives them access to over 100 high-quality titles with new ones being added all the time.
Seamless integration with the cloud
Finally, I would like to talk a bit about the under-the-hood stuff which an ordinary end-user does not usually notice but which makes their life a lot easier. Windows 11 will be not only easier to use and more secure; it will be also faster and more tightly integrated with cloud, the latter aspect being especially interesting. A good place to see it in action is the Start menu. For example, if you've recently worked on a Word document on your Android device, you'll see it listed when you click the Start button. So, no matter which platform or device you use, your files will be available on your PC to continue editing or viewing them, provided you are logged on to your Microsoft 365 account on all devices. Nice!
Useful information about Windows 11
If you manage devices for an organization, you should probably be interested not only in novelties or improvements, but also things such as Windows 11 system requirements or discontinued features because it may directly impact your IT environment. The Microsoft webpage lists the information that may be of interest to you.
I hope you've enjoyed my summary of new and upgraded features in Windows 11, and now you know more about the new Microsoft's product than before.