Below, you will find a complete list of Office 365 language IDs. All of those languages are supported in Office 365. The list includes a language name in English, in the respective language and a language code (ID) used, for example, as an Active Directory attribute.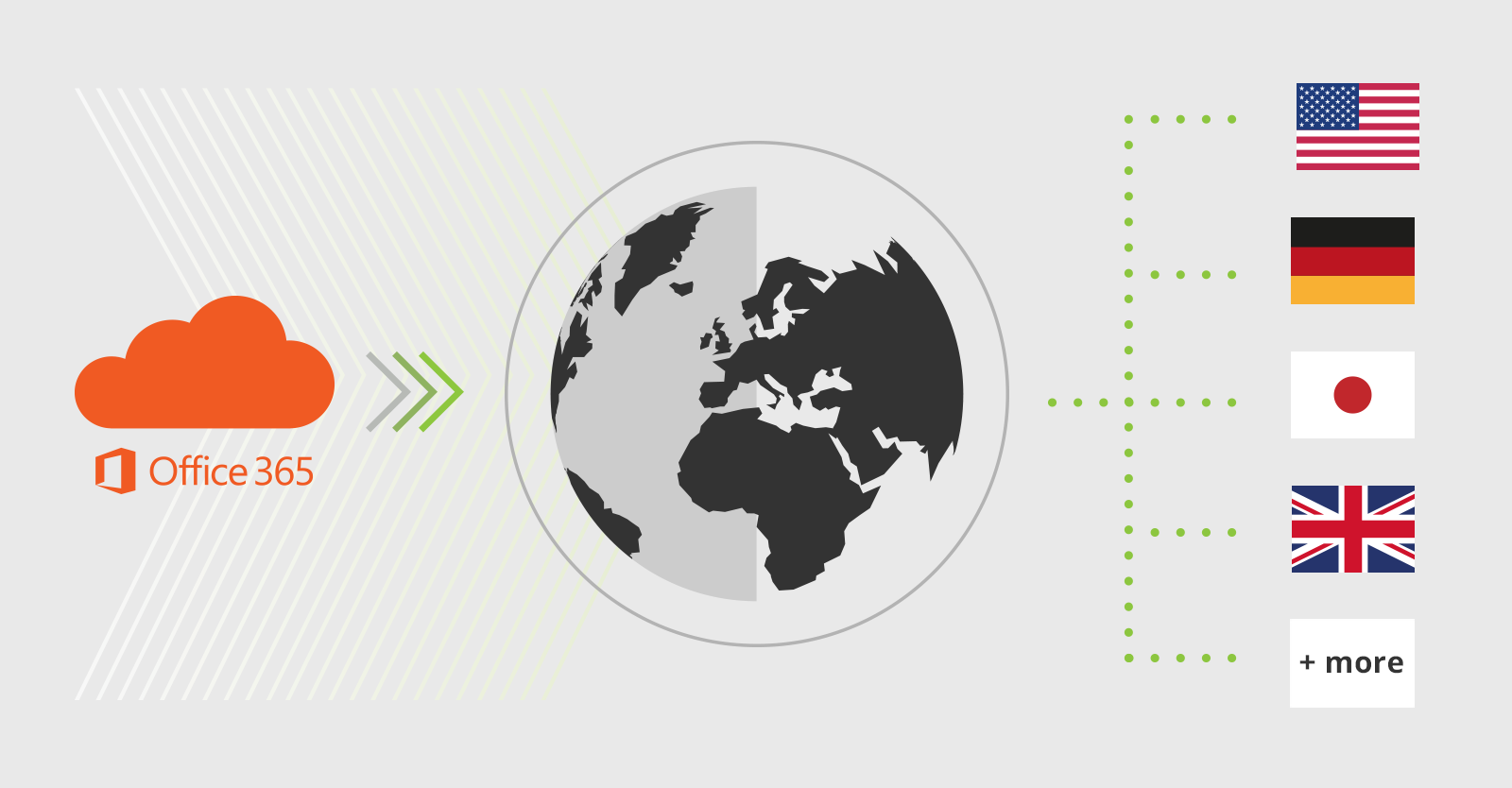 In most cases, you can take a look at the list of available languages in an Office 365 profile. You can go to Settings>Language and time zone and easily scroll through the list. However, there are two problems you might encounter:
In a hybrid environment, you will not be able to see or change available languages. The language is synced using the prefferedLanguage attribute from the on-premises Exchange. That is why you might need one of the language codes from below to set the Exchange attribute. How to change language in Office 365 portal in a hybrid environment?
All language names are written in respective languages. While this is the obvious and preferred choice, it can also be problematic. If you are an English speaking admin and are asked to change the language for a user, it might make an easy task quite problematic. Fortunately, if you use the list of supported Office 365 languages from below, such a task will be a no-brainer.
Languages supported in Office 365
The table below shows all languages supported in an Office 365 environment:
| Language and region | Language in English | Language ID (string) |
| --- | --- | --- |
| Bahasa Melayu (Brunei) | Malay (Brunei) | ms |
| Bahasa Melayu (Malaysia) | Malay (Malaysia) | ms |
| català (català) | Catalan | ca |
| čeština (Česká republika) | Czech | cs |
| dansk (Danmark) | Danish | da |
| Deutsch (Deutschland) | German (Germany) | de |
| Deutsch (Liechtenstein) | German (Liechtenstein) | de-li |
| Deutsch (Luxemburg) | German (Luxembourg) | de-lu |
| Deutsch (Österreich) | German (Austria) | de-at |
| Deutsch (Schweiz) | German (Switzerland) | de-ch |
| eesti (Eesti) | Estonian | et |
| English (Australia) | English (Australia) | en-au |
| English (Belize) | English (Belize) | en-bz |
| English (Canada) | English (Canada) | en-ca |
| English (Hong Kong SAR) | English (Hong Kong SAR) | en |
| English (India) | English (India) | en |
| English (Indonesia) | English (Indonesia) | en |
| English (Ireland) | English (Ireland) | en-ie |
| English (Jamaica) | English (Jamaica) | en-jm |
| English (Malaysia) | English (Malaysia) | en |
| English (New Zealand) | English (New Zealand) | en-nz |
| English (Philippines) | English (Philippines) | en-ph |
| English (Singapore) | English (Singapore) | en |
| English (South Africa) | English (South Africa) | en-za |
| English (Trinidad and Tobago) | English (Trinidad and Tobago) | en-tt |
| English (United Kingdom) | English (United Kingdom) | en-gb |
| English (United States) | English (United States) | en-us |
| English (Zimbabwe) | English (Zimbabwe) | en-zw |
| español (Argentina) | Spanish (Argentina) | es-ar |
| español (Bolivia) | Spanish (Bolivia) | es-bo |
| español (Chile) | Spanish (Chile) | es-cl |
| español (Colombia) | Spanish (Colombia) | es-co |
| español (Costa Rica) | Spanish (Costa Rica) | es-cr |
| español (Ecuador) | Spanish (Ecuador) | es-ec |
| español (El Salvador) | Spanish (El Salvador) | es-sv |
| español (España, alfabetización internacional) | Spanish (International Sort) | es-es |
| español (Estados Unidos) | Spaniesh (United States) | es-us |
| español (Guatemala) | Spanish (Guatemala) | es-gt |
| español (Honduras) | Spanish (Honduras) | es-hn |
| español (México) | Spanish (Mexico) | es-mx |
| español (Nicaragua) | Spanish (Nicaragua) | es-ni |
| español (Panamá) | Spanish (Panama) | es-pa |
| español (Paraguay) | Spanish (Paraguay) | es-py |
| español (Perú) | Spanish (Peru) | es-pe |
| español (Puerto Rico) | Spanish (Puerto Rico) | es-pr |
| español (República Dominicana) | Spanish (Dominican Republic) | es-do |
| español (Uruguay) | Spanish (Uruguay) | es-uy |
| español (Venezuela) | Spanish (Venezuela) | es-ve |
| euskara (euskara) | Basque | eu |
| français (Belgique) | French (Belgium) | fr-be |
| français (Cameroun) | French (Cameroon) | fr |
| français (Canada) | French (Canada) | fr-ca |
| français (Congo, République démocratique du) | French (Congo) | fr |
| français (Côte d'Ivoire) | French (Ivory Coast) | fr |
| français (France) | French (France) | fr |
| français (Haïti) | French (Haiti) | fr |
| français (La Réunion) | French (Reunion Island) | fr |
| français (Luxembourg) | French (Luxembourg) | fr-lu |
| français (Mali) | French (Mali) | fr |
| français (Maroc) | French (Morocco) | fr |
| français (Monaco) | French (Monaco) | fr-mc |
| français (Sénégal) | French (Senegal) | fr |
| français (Suisse) | French (Switzerland) | fr-ch |
| galego (galego) | Galician | gl |
| hrvatski (Bosna i Hercegovina) | Croatian (Bosnia and Herzegovina) | hr |
| hrvatski (Hrvatska) | Croatian (Croatia) | hr |
| Indonesia (Indonesia) | Indonesian | id |
| italiano (Italia) | Italian (Italy) | it |
| italiano (Svizzera) | Italian (Switzerland) | it-ch |
| latviešu (Latvija) | Latvian | lv |
| lietuvių (Lietuva) | Lithuanian | lt |
| magyar (Magyarország) | Hungarian | hu |
| Nederlands (België) | Dutch (Belgium) | nl-be |
| Nederlands (Nederland) | Dutch (Netherlands) | nl |
| norsk bokmål (Norge) | Norwegian | no |
| polski (Polska) | Polish | pl |
| português (Brasil) | Portugese (Brasil) | pt-br |
| português (Portugal) | Portugese (Portugal) | pt |
| română (Republica Moldova) | Romanian (Moldova) | ro-md |
| română (România) | Romanian | ro |
| slovenčina (Slovensko) | Slovak | sk |
| slovenščina (Slovenija) | Slovenian | sl |
| srpski (Bosna i Hercegovina) | Serbian | sr |
| srpski (Crna Gora) | Serbian | sr |
| srpski (Srbija) | Serbian | sr |
| suomi (Suomi) | Finnish | fi |
| svenska (Finland) | Swedish (Finland) | sv-fi |
| svenska (Sverige) | Swedish | sv |
| Tiếng Việt (Việt Nam) | Vietnamese | vi |
| Türkçe (Türkiye) | Turkish | tr |
| Ελληνικά (Ελλάδα) | Greek | el |
| български (България) | Bulgarian | bg |
| қазақ тілі (Қазақстан) | Kazakh | kk |
| русский (Молдова) | Russian (Moldova) | ru-md |
| русский (Россия) | Russian (Russia) | ru |
| српски (Босна и Херцеговина) | Sebian (Bosnia and Herzegovina) | sr |
| српски (Србија) | Serbian (Serbian) | sr |
| српски (Црна Гора) | Serbian (Montenegro) | sr |
| українська (Україна) | Ukrainian | uk |
| (עברית (ישראל | Hrebrew | he |
| (العربية (الأردن | Arabic (Jordan) | ar-jo |
| (العربية (الإمارات العربية المتحدة | Arabic (United Arab Emirates) | ar-ae |
| (العربية (البحرين | Arabic (Kingdom of Bahrain) | ar-bh |
| (العربية (العراق | Arabic (Iraq) | ar-iq |
| (العربية (الكويت | Arabic (Kuwait) | ar-kw |
| (العربية (المملكة العربية السعودية | Arabic (Saudi Arabia) | ar-sa |
| (العربية (المملكة المغربية | Arabic (Kingdom of Morocco) | ar-ma |
| (العربية (اليمن | Arabic (Yemen) | ar-ye |
| (العربية (تونس | Arabic (Tunisia) | ar-tn |
| (العربية (عمان | Arabic (Oman) | ar-om |
| (العربية (قطر | Arabic (Qatar) | ar-qa |
| (العربية (لبنان | Arabic (Lebanon) | ar-lb |
| (العربية (ليبيا | Arabic (Libya) | ar-ly |
| (العربية (مصر | Arabic (Egypt) | ar-eg |
| हिंदी ( भारत ) | Hindi | hi |
| ไทย ( ไทย ) | Thai | th |
| 한국어 ( 대한민국 ) | Korean | ko |
| 中文 ( 中国 ) | Chinese (China) | zh-cn |
| 中文 ( 台灣 ) | Chinese (Taiwan) | zh-tw |
| 中文 ( 新加坡 ) | Chinese (Singapore) | zh-sg |
| 中文 ( 澳門特別行政區 ) | Chinese (Macao SAR) | zh-mo |
| 中文 ( 香港特別行政區 | Chinese (Hong Kong SAR) | zh-hk |
| 日本語 ( 日本 ) | Japanese | ja |
Read more: