CodeTwo Sync for iCloud
Sync Outlook folders with iCloud folders automatically

Date Published: 16 Jan 2019
Latest Version: 1.5.1.3
Size: 21.2 MB
---
Supported platforms
Windows 10(1) / 8.1 / 8 / 7 / Vista
Microsoft Outlook 2016 / 2013 / 2010 / 2007
iCloud for Windows 5.1 or higher. Learn more.
Support for 32-bit and 64-bit versions
(1) If the program doesn't work after upgrading to Windows 10 from Windows 7 or 8.1, you need to reinstall iCloud for Windows.
---
---
Thank you for downloading CodeTwo Sync for iCloud
In a few seconds you will be able to sync your Outlook contacts, calendars and tasks with iCloud automatically. Just follow the steps below.
Your download will begin in a moment. If it doesn't, click here to try again.
Installation and configuration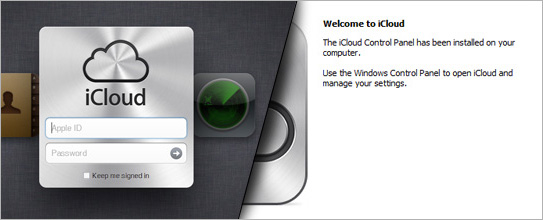 Make sure the iCloud Control Panel for Windows is installed and configured on your PC and the Apple® devices you use are set up to work with iCloud (Learn more...).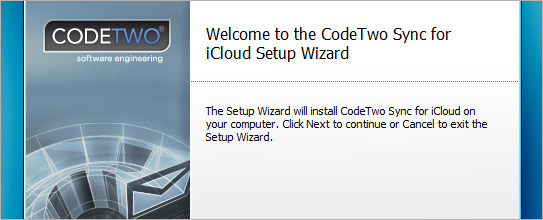 After the CodeTwo Sync for iCloud installer download finishes, run it and follow the installation wizard.
Note! During the program's installation Microsoft Outlook must be closed.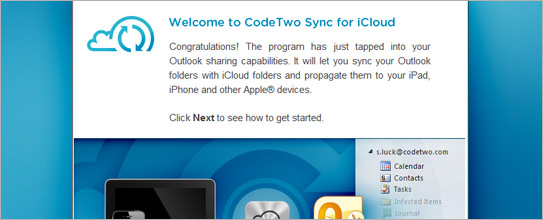 Take a quick tour of the program's features and launch Outlook again.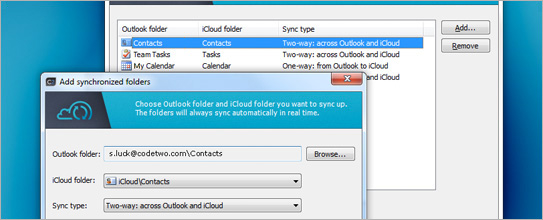 Set up your synchronization settings and start syncing data between Outlook and iCloud automatically!
Learn how to synchronize Outlook between many PCs
CodeTwo Sync for iCloud is not the only Outlook synchronization software created by CodeTwo. Check out also CodeTwo Outlook Sync to learn how to sync Outlook between two PCs in real time! If you want to synchronize data between Exchange Server folders and replicate Exchange public folders on mobile devices, read about CodeTwo Exchange Sync.