How to temporarily stop routing mail through CodeTwo services
Problem:
You would like to stop routing emails through the signature-adding services of CodeTwo Email Signatures for Office 365.
Solution:
If you do not want to deregister your tenant or remove connectors, as described in the User's manual, you can temporarily disable the CodeTwo transport rule in Office 365. This prevents your messages from being routed to CodeTwo servers. Follow the steps below to do so.
Log in to your Microsoft 365 admin center (Office 365 admin center).
Use the left navigation menu (Admin centers > Exchange) to access your Exchange admin center (EAC), as shown in Fig. 1.


Fig. 1. How to open Exchange admin center.
Go to Mail flow > Rules.
Find CodeTwo Exchange transport rule on the list, and disable it by clearing the checkbox next to it, as shown in Fig. 2.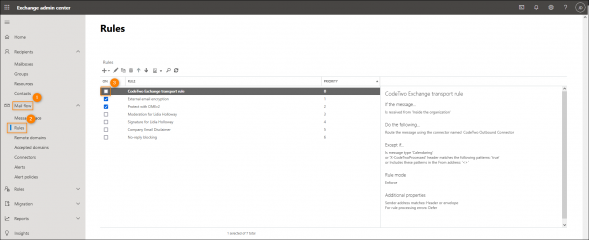 Fig. 2. Disabling the CodeTwo transport rule in EAC.
As soon as the changes propagate in your Office 365 (this usually takes up to 15 minutes, but might take longer in large organizations), your emails are no longer routed through the CodeTwo services.
If you want to restore mail flow through the CodeTwo services, select the checkbox next to the CodeTwo transport rule again, and wait for the changes to apply. No further configuration is required.