How to remove an address book in Outlook
This article is meant for users of CodeTwo Public Folders. This software has been discontinued. You can check the list of currently available CodeTwo products here.
Problem:
You would like to remove an old address book from Outlook.
Solution:
CodeTwo Public Folders lets you share contact folders. These contact folders can also be changed into address books for your company. Learn more
If you deleted a public contacts folder, but upon synchronization this folder is still available in Outlook's Address Book, you need to remove it. TO remove an address book from Outlook, you need to:
Click on the File tab and choose Account Settings > Account Settings.
Go to the Address Books tab, select the address book you want to delete, and click Remove (Fig. 1.).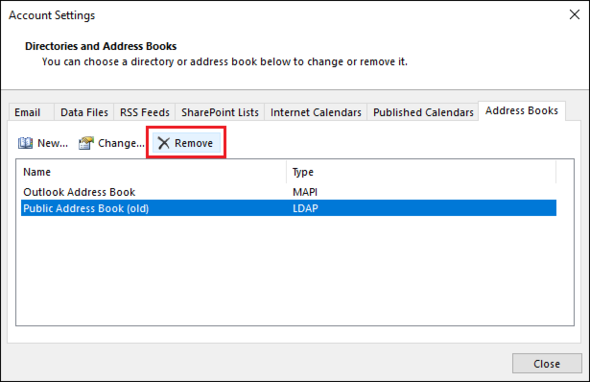 Fig. 1. How to remove an address book in Outlook 2016.
Choose Tools > Accounts Settings.
Choose the Address Book tab.
Select Outlook Address Book and click Change.
The dialog box that opens will show you Outlook address books. Select the address book that is redundant and click Remove address book.
In Outlook 2003 and Outlook 2007:
Choose Tools and Address Book.
In the dialog box that opens choose Tools > Options.
On the list, find the folder that is missing from your C2PublicFolders tree.
Click Remove.
---
| | |
| --- | --- |
| Related products: | CodeTwo Public Folders 4.0, 4.5, 5.x |
| Categories: | How-To |
| Last modified: | March 20, 2019 |
| Created: | January 27, 2009 |
| ID: | 76 |