Reasons to back up
your data
Why back up Exchange/Office 365 mailboxes?
If you are asking yourself why you should back up Office 365, here you will find the reasons why backup of Office 365 data is important. Business data your company processes is valuable and only your company is responsible for ensuring its availability and security. Check out what options you have when it comes to Office 365 backup and why it is crucial to secure your business data.
Go to section:
Legal requirements
It is worth verifying whether your organization is obligated to maintain backup copies of electronic data to comply with legal requirements. Respecting the law will protect you and your company from unexpected and unwanted problems:
Avoid fines or pecuniary penalties for not retaining crucial business information that may be requested for legal actions or disputes involving your company.

There are different laws and restrictions that regulate access to important data – no matter whether the case concerns government agencies, companies or other organizations – you are obligated to respect those regulations. Take a quick look at the table below to learn about laws that may impose a legal obligation of data archiving on your business.
Type of document

What does it regulate?

eDiscovery

(related to Electronically Stored Information - ESI)

A procedure that is adopted during pre-trial activities that allows parties taking part in a dispute to provide requested evidence in form of electronic records that may be relevant in the trial. In this case, all organizations should protect their crucial data and manage them in a secure way so that they can be identified and recovered at any time.

Sarbanes-Oxley Act of 2002

As a result of big financial scandals, this act imposes the onus of controlling and maintaining important financial records on all organizations in the U.S. as well as on certain international non-U.S. companies. They are obligated to store important data that may be required as evidence of information included in financial reports. Not respecting this law results in severe pecuniary or criminal penalties.

Health Insurance Portability and Accountability Act

This law mandates, e.g. the continuity of health insurance or safety of electronic transactions that involve exchanging health information. Not following the restrictions of this act will result in penalties. Every organization that provides care services, along with their business partner, is responsible for respecting confidentiality and security of individuals' health information. All data must be stored for at least 6 years.

Securities and Exchange Commission Rule 17

These rules regulate the way broker-dealers must collect and maintain certain electronic records, e.g. customer account ledgers or business communications. A broker-dealer must ensure availability of records in question and store them for future reference.

Freedom of Information Act

This law allows citizens to access information about their government. It means that federal agencies are obligated to make their records available for citizens, if requested. In this case, it is important to archive all data to respect this law.

Federal Information Security Management Act

This act helps to protect federal information systems by controlling the activity of agencies and departments with reference to ensuring high information security effectiveness. Federal agencies need to be prepared to provide any requested records to report their activity to the Department of Homeland Security.

This document regulates the way companies are registered and managed. It also requires each company to keep and maintain records regarding their business transactions so that they can be reached at any time if required for inspection. To fulfill this requirement, a company needs to maintain backup copies of their data.

It regulates the way personal information may be collected, used or made public by companies or federal agencies. Thanks to this act, those organizations are obligated to provide individuals with the personal information kept in their records and correct them, if requested. To comply with this law, organizations in question need to archive personal data.
NOTE: Please keep in mind that this is not professional legal advice but only suggestions on how CodeTwo Backup can help you comply with the selected laws. For professional legal advice regarding the acts that apply in your country, please consult your lawyer.
Unexpected data damage or loss
Are you prepared for a situation when your company unexpectedly loses business data? To ensure company stability, you should keep backups of data that may be crucial for your business:
Sometimes it happens that an important email or contact is deleted unintentionally. This can cause unnecessary and unexpected problems. To avoid such situations, keep backup copies of all emails, contacts and calendar items saved in versions (if an item is changed, it is saved again as a next version of this item) so that even permanently deleted items can be restored from local backup copies.


Some vital data may be deleted on purpose. Such a piece of information may turn out to be relevant for a trial or other legal actions.


Protect your company by preserving important electronic data so that your business can operate smoothly. Make sure that the contents of all employees' mailboxes are backed up just in case of an unexpected disaster on the service provider's side resulting in partial or total data loss. Hopefully, such a scenario will never happen, but keep in mind that you are the only one responsible for safety of your electronic data.


Do not put all eggs in one basket. Be precautionary and create backup copies of your mailboxes to have full control over Office 365 data.
What can you do?
Fortunately, there are solutions that can help you protect your Office 365 data and save yourself stress and trouble. See what your options are:
First of all, you can take a look at what you can get natively, but be aware that there is no native Office 365 backup solution in a traditional sense. What can be useful is Litigation Hold, which allows you to preserve mailbox data as long as mailbox in question is put on hold. However, if you decide to switch this functionality off or fail to switch it on, your data will be removed permanently when it reaches a retention period. This feature is not available by default for every Office 365 plan so make sure your plan is eligible.

In case of malicious or unintentional deletion of items, deleted items are moved to the Recoverable Items folder where they are stored for a certain number of days. However, when this period expires, data is deleted permanently and cannot be recovered unless you enabled Litigation Hold, which allows you to extend that period.

You can manage your company Office 365 backups by using a third-party tool such as CodeTwo Backup for Office 365. One of the main advantages of using the program is that you have full control over important business data and you have a physical access to locally stored backed up information at any time you need. If necessary, you can efficiently restore lost items back to Office 365 tenant.
Benefits of using CodeTwo Backup
Back up Office 365 mailboxes to local drives

Keep backup copies of electronic data to respect the law
Get full direct access to copies of your Office 365 mailbox data
Reduce mailbox size and store obsolete data locally
Perform one-time backups or let the program create backup copies continuously
Archive mailboxes of employees (also to PST files) who are no longer with your company
Search for single items, folders or entire mailboxes using various search criteria
Restore single items (or its selected versions) to original or different Office 365 tenants
Set up automatic backup jobs so that no item is lost unnoticed
Watch overview video
See detailed list of features
Back up SharePoint Online and OneDrive for Business
Incremental Exchange mailbox backup and granular restore

Keep Exchange mailbox data in granularly recoverable storages
Perform one-time backups or let the program create backup copies continuously
Make backups without affecting users' mailboxes performance
Create backup copies of all Exchange folder types
Restore intact versions of items to replace damaged or deleted ones
Search for even single items using various search criteria
Archive your emails, contacts, calendar items or all mailboxes to ensure your business reliability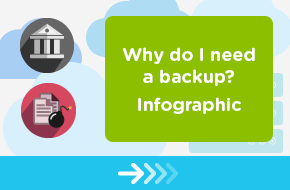 For more information see also: