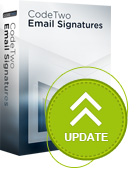 CodeTwo Email Signatures, our program for managing email signatures on email clients such as Outlook, Office 365 OWA or Google Apps, has been updated.
The newest version of the software solves the problem which specifically affected Google Apps users, namely the program was not able to list more than 100 Google Apps mailboxes. Nevertheless, we recommend updating the program by all current users.
To update the program, simply download the new installation file and run it on top of your current version of CodeTwo Email Signatures. More information on how to perform the update of our programs can be found here.
All licensed users of CodeTwo Email Signatures are free to update the software at no additional cost.
Download CodeTwo Email Signatures ver. 1.6.1
If you have any questions, please do not hesitate to contact us – we are available 24 hours a day, Monday through Friday.