Today marks the premiere of a long-awaited feature in CodeTwo Email Signatures for Office 365. From now on, end users of this program can preview their server-side email signature in Outlook, or in Outlook on the web (OWA) while composing an email. This breakthrough feature makes CodeTwo Email Signatures for Office 365 the first email signature solution on the planet which allows users to see their email signature before they press the 'Send' button!
The new feature is now being rolled out to all our customers and will be available for all tenants, in all service geolocations any minute now.
How it works
To let end users see the signature while typing an email, an Office 365 admin only needs to push a special, modern Outlook Web Add-in to their Office 365 accounts. The add-in can be centrally deployed by the admin from within the Microsoft 365 (Office 365) admin center, without the need to touch the client machines.
We use the newest and most secure Outlook web add-in technology from Microsoft to push signatures to Outlook and OWA.
The solution is agentless – it is not a COM add-in or EXE module, so no software is installed on client machines and the add-in is deployed per user, and not per machine. This means that once the add-in is deployed, it will automatically appear in Outlook and OWA (soon also on mobile clients) for all users hooked up to Office 365.
After the deployment is completed, a preview of the server-side email signature will show up in the email client every time a new, reply or forward message is composed by the user. This works with Outlook and Outlook on the web (OWA).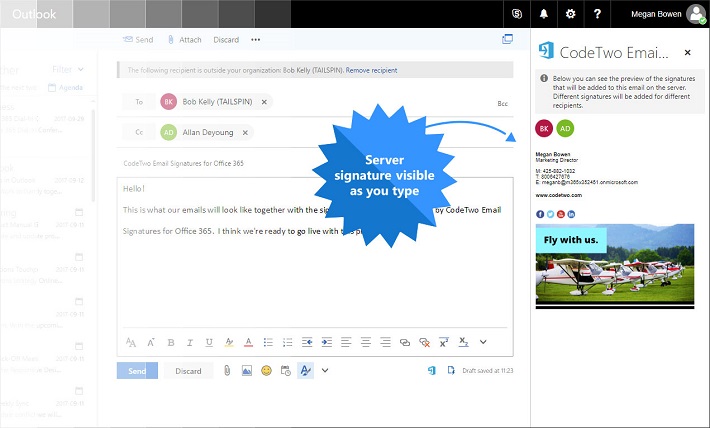 There's no additional configuration required on the email client's side. What's more, if you use different signatures for different recipients, or if you have different signatures for new and subsequent emails, the add-in will show the right email signature variants in the preview pane accordingly.
Why this feature is unique
You might have already heard of email signature solutions that work with Office 365 and let users see their signatures in Outlook before sending an email. However, when you take a closer look at those programs, you'll quickly notice that they don't work centrally on the email server's side. They are usually based on client-side email signature deployment. This approach might work to some extent, but it also has some serious drawbacks, e.g. users can easily edit or remove the signature before sending the message and the number of supported email clients is limited to a few (let alone mobile clients).
This isn't the case with CodeTwo Email Signatures for Office 365. Since our solution adds email signatures in the cloud, after an email is sent, you have a full control of your company's branding no matter what email client and device are used. Now, thanks to our new breakthrough technology, server-side signatures can also be previewed by users in Outlook and Outlook on the web (OWA) before they send an email. Moreover, the signature preview is updated in real time, which means that if the content of the message has a direct influence on which rules should be applied on the server (e.g. if you change or add a recipient that should get an email with a different signature), the signature will change to a different one in a split second in the preview pane.
Learn more about CodeTwo Email Signatures for Office 365
Test the solution for free for 14 days