Our CodeTwo Exchange Rules family of products has been expanded with a new solution designed for Exchange Server 2019 – CodeTwo Exchange Rules 2019. The program allows you design and deploy email signatures and disclaimers centrally, for each user or group of users in your organization. Plus, it comes with a ton of features that significantly enhance the handling of signatures in an Exchange organization.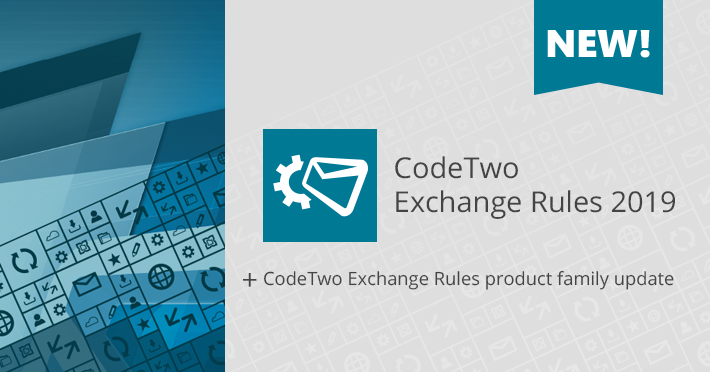 CodeTwo Exchange Rules 2019 now available
The latest version of Exchange Server brought quite a few improvements in terms of security and performance; however, changes that impact the end-user experience were rather subtle. It is worth mentioning that Exchange 2019 supports email addresses that contain non-English characters, but in the context of email signatures there were no changes at all (make sure to check this Admin's Blog entry to get a better insight into all new features of Exchange 2019). And this is where CodeTwo Exchange Rules 2019 comes into play.
By installing the program in an Exchange environment, you will be able to:
Compose and deploy professional-looking and uniform email signatures for all employees by using an easy-to-use WYSIWYG editor
Ensure that signatures and appropriate disclaimers are always added to every outgoing message
Take advantage of Active Directory attributes to personalize email signatures by using employees' data and photos
Delegate signature management to Sales or Marketing teams without compromising the Exchange server security
Choose where your signatures should appear in an email thread – right below each new message (reply/forward) or at the very bottom of the whole conversation
Run email marketing campaigns and increase brand recognition by embedding company logo and marketing banners in email signatures – your recipients won't have to click 'Download images' to see them
Add signatures to messages sent from any device or email client (Outlook, OWA, iPhone/iPad, Android, etc.)
View your signatures in the Sent Items folder to verify that they look as expected
Since Microsoft strongly recommends deploying Exchange Server 2019 on Windows Server Core, mainly for security reasons, I suppose you will be happy to know that the core components of CodeTwo Exchange Rules 2019, responsible for processing emails and attaching email signatures, can also be installed on the Server Core version. Keep in mind that you still need to install the program's Administration Panel on a client machine that has a graphical user interface (GUI) in order to configure email rules, create signature templates, edit program settings, etc.
And just to let you know, we've also released new versions of other products of the CodeTwo Exchange Rules family:
Update for CodeTwo Exchange Rules Pro
In conjunction with the release of CodeTwo Exchange Rules 2019, an updated version of our award-winning email signature and email flow manager, CodeTwo Exchange Rules Pro, has also became available. Although the program can be used with Exchange 2019 for quite a while, it is now also possible to deploy it on the Server Core version of Windows Server.
The update is free of charge for all users who own CodeTwo Exchange Rules Pro 2.x license. To update the program, simply download its latest version (2.12.0.0) and install it over the previous version. You don't have to worry about configured email rules or program settings – they will remain intact.
Try out CodeTwo products for free
Both programs are available as a fully-functional 30-day free trial that can be downloaded by using the links below:
CodeTwo Exchange Rules 2019 (use this link to download other versions of CodeTwo Exchange Rules as well, designed for Exchange 2016, 2013, 2010, and 2007)
The trial version comes also with 24/5 technical support – our technicians can help you set up the program or create your first email rule. See for yourself how CodeTwo Exchange Rules family of products can benefit your Exchange organization and how easy it is to deploy and maintain email signatures for all employees.