This year's IT Dev Connections takes place in Aria Hotel and Resort in Las Vegas. Allegedly what happens in Vegas, stays in Vegas, but since we did not throw a mattress out of the window and we didn't kidnap anyone (yet), I think I can share my first impressions after day 1 of Penton Media's flagship conference.
It's the third conference taking place in the US that we are sponsoring and exhibiting on in 2015. Traveling from Poland is not an easy thing (especially if you're based far from any international airport) and this time it took us three days to get to Nevada. No… we didn't travel by bike, it's our flight that got delayed and grounded us in Philadelphia for 15 hours. Anyway… let's cut to the chase.

I read Tony Redmond's reviews of previous IT Dev Connections, as I've been following his blog for the last 3 years, and I thought that this might be a good fit for us as he had suggested (or I understood it this way) that this conference is specifically focused on technology and real life IT challenges instead of marketing and sales pitches about MS solutions. However, I was still afraid that it might turn out to be a really small, almost soulless conference incompetently trying to mimic Ignite, TechEd or MEC and other Microsoft events. I was right and wrong at the same time.
It's not a massive event like Ignite, which gathered 23k people from all around the world. It's also not MEC 2012 or 2014, which were almost the same size. It's something way more intimate and thought over. It took me a while to realize what makes it so different, but I think I found it – it's the community, the way Penton organized it with them and the approach Tony wrote about in his blog posts.
It's the only conference of this kind where you can get so close to Exchange and Office 365 experts and MVPs, and other attendees both during, or after the sessions. And it's also the only conference where the organizers make sure that the jollity of everyone is at the highest level not by sending them to Disneyworld but by literally spending time with them and making sure they all get what they expected to get.
There's just a dozen exhibitors who are located in the foyer of the convention center, so attendees walking from one session room to another always go through the central place where everyone else is. There's no separate exhibition hall with hundreds of booths, there are no stupid giveaways and fighter jets hanging from the ceiling and no two-storey 2 million dollar booths, so everything seems to be connected and consistent and attendees can focus on things that matter most.
The food is fabulous and I don't even want to compare it with Ignite. It turns out that it's actually possible to be creative and to cook well even for hundreds of people.
When it comes to sessions, this is where I correctly understood Tony's articles. They are technical, conversational and well prepared. What's also really interesting is that there isn't much overlap between them and you do not have to have the skill of bi-location to attend interesting Exchange sessions at the same time.
I had a chance to attend 4 sessions today. Naturally, all of them were Exchange-related. The first one was conducted by Tony Redmond where he talked about the future of Exchange, how Office 365 has been evolving over the last 4 years and how many users will be on Office 365 in 2018. I didn't like the idea that Exchange 2016 is probably the last major on-prem version of Exchange but, as Tony said, it's just a prediction. I think that Microsoft will release at least one more Exchange version until 2022 as there will be a bunch of large and other specific organizations of various sizes, which, for many reasons, will want or need to stay on-prem, and Exchange 2016 CU 27 will not be enough for them.
Jeff Guillet did a great presentation (it's actually the first time I saw him live) about deploying Exchange 2016. Even though I've seen most of the deployment hints at Ignite, there's been a couple of things I didn't know about, like IP-less DAGs (which actually were introduced in Exchange 2013 SP1) or the new version of EAS, which sports new features like syncing the drafts folders. There will be no service packs in Exchange 2016, as Microsoft will only release CUs now. I gotta tell it to our IT team, as they said they won't implement it until Service Pack 1 is released. It looks like it might take a while…
The next session was conducted by Paul Robichaux, the only person in the world who can write a PowerShell script and set up Instrument Landing System CAT 3c at the same time. The session was focused on managing Exchange 2016 and, as usually, it was packed with lots of information and presented in a very coherent way. I liked the fact that Exchange 2016 will be fully supported on Azure. LTSB and redundancy APIs look like a good move when it comes to installing Exchange updates by those who are always reluctant to do it (who isn't anyway?). What surprised me a lot is that Managed Availability is still not used in most Exchange organizations and admins have hard time understanding how this works.
The last session, Office 365 Gotchas, delivered by Tim McMichael showed user problems from Microsoft tech guys' perspective. It was great to learn about possible hybrid configuration issues; how people stumbled upon them and how eventually Microsoft fixed them.
I can hardly wait to see tomorrow's sessions by other Exchange experts like Paul Cunningham or Michael Van Horenbeeck. If you're at the show, make sure to get a free copy of their Office 365 for Exchange Professionals book written together with Tony Redmond. And if you're not in Vegas now, you can purchase it here.
To quickly sum up, I believe IT Dev Connections are far more intensive, technical, cohesive and magical than any other Microsoft conference I've ever attended. I also think that this conference would still be as magical as it is if got bigger, and maybe that's where it's heading right now. Microsoft dumped MEC and merged it with Ignite. It was a bad move and maybe IT Dev Connections has just become a new, better MEC? It has, at least for me.
Oh.. and here is a bunch of pictures: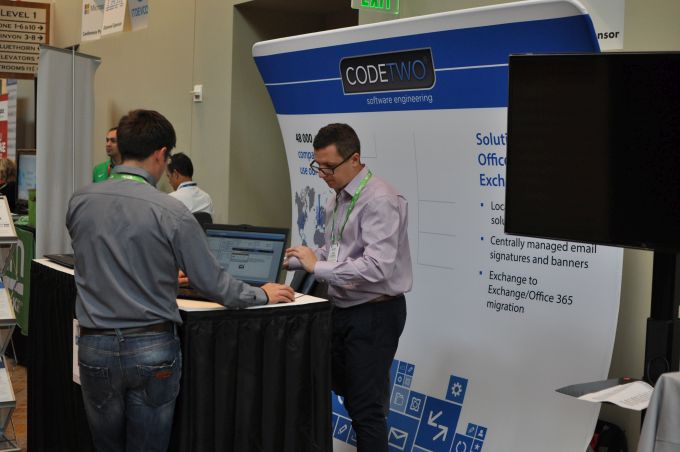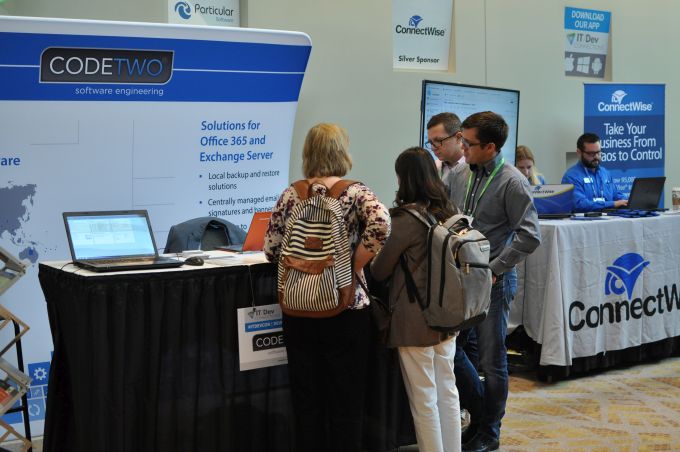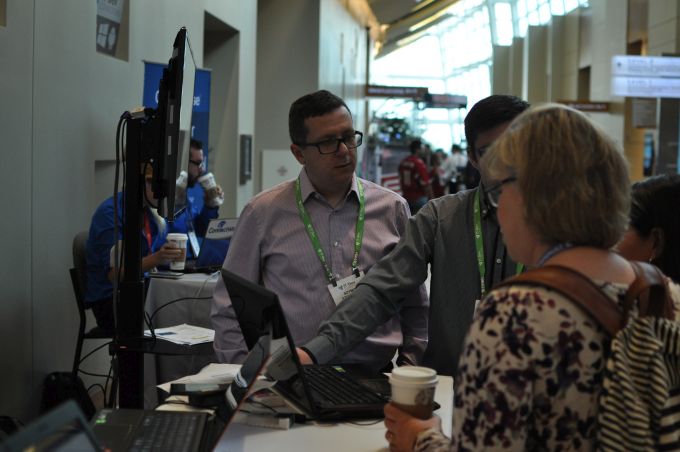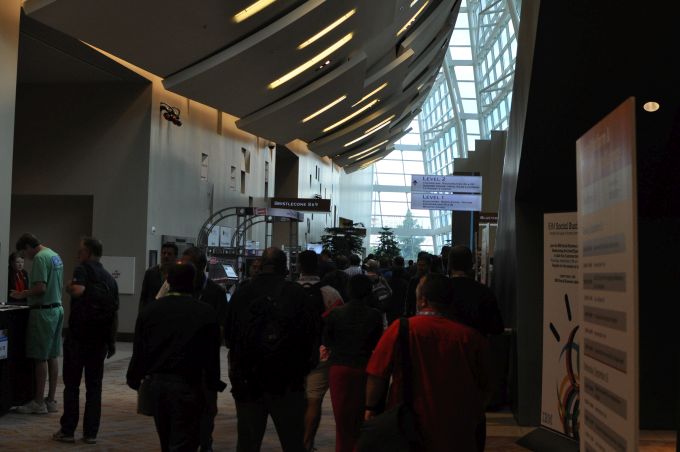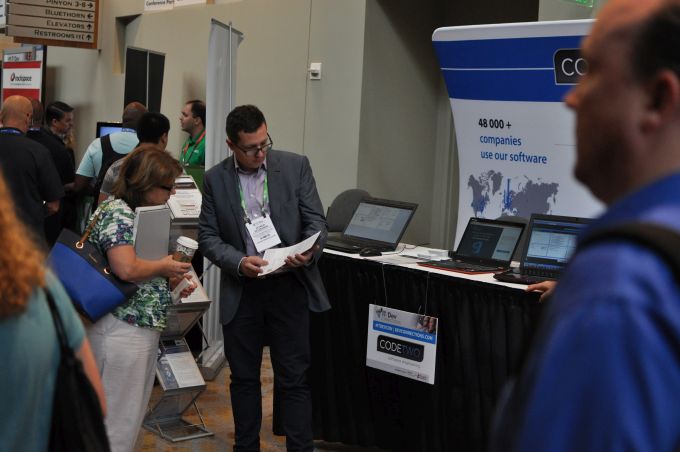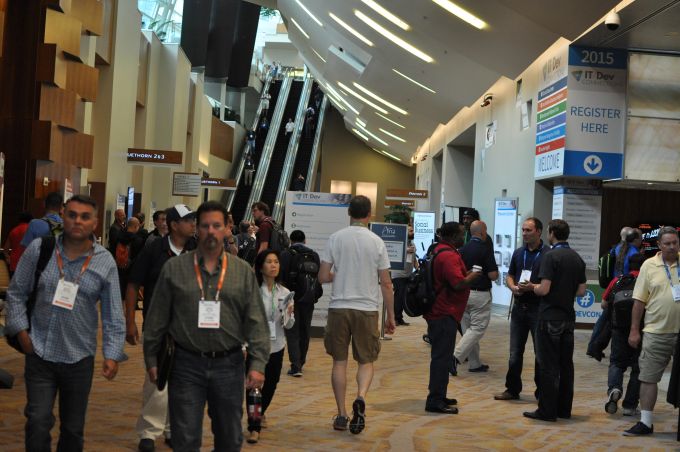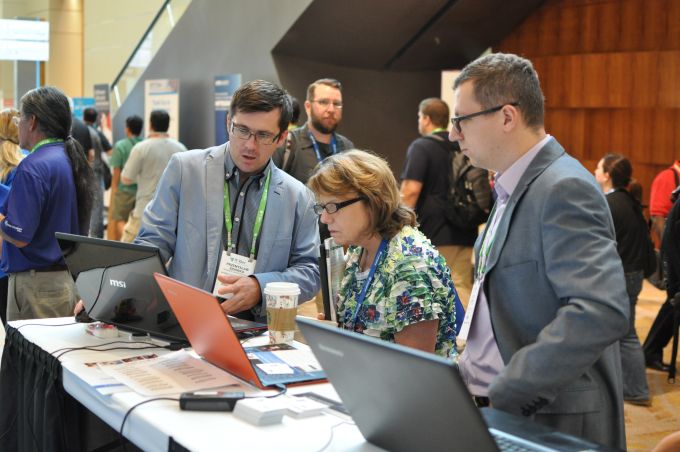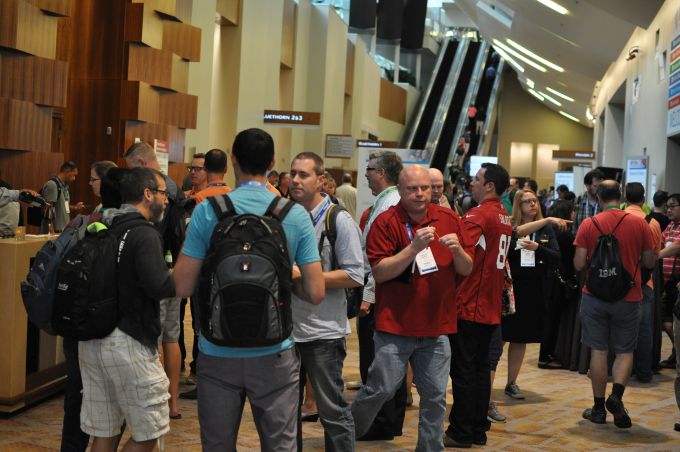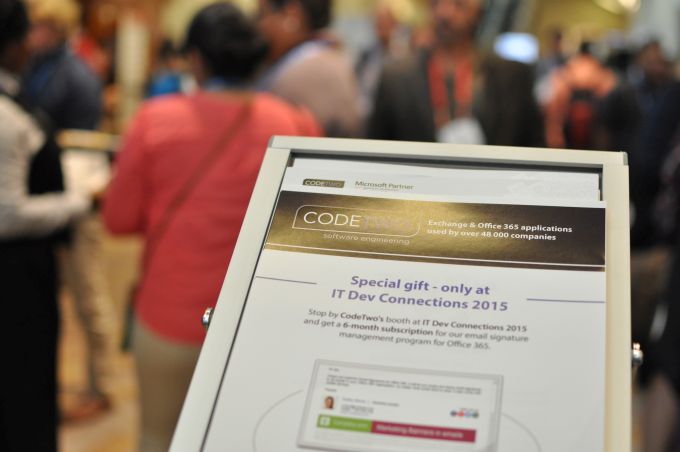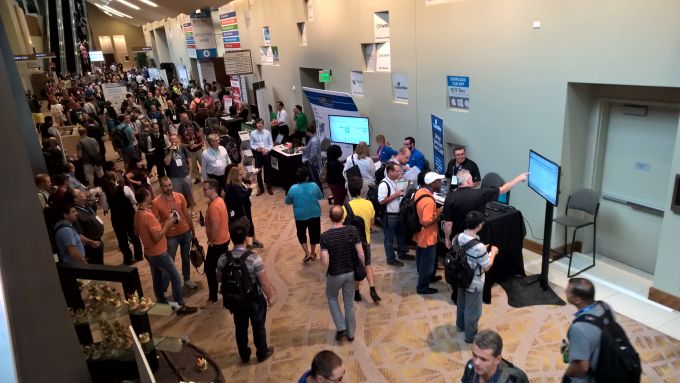 Last (and least) I'd like to add a bit of disgusting marketing! If you're at the show, please stop by CodeTwo's booth to get our brand new email signatures manager (working on Azure) for Office 365.