If you are facing the daunting task of migrating your on-premises Exchange organization to the cloud, there is a book we can wholeheartedly recommend that will help you in the process. The book we're talking about is Conversational Microsoft 365 Migrations by J. Peter Bruzzese (an 8-time Microsoft Office 365 MVP) and it is now available in its 6th edition. Inside you will find information about the native solutions that support migration to Microsoft 365 (Office 365) and how CodeTwo's migration tool can make the entire process much easier. Interested? Keep reading to find out more about the book and download a free PDF copy.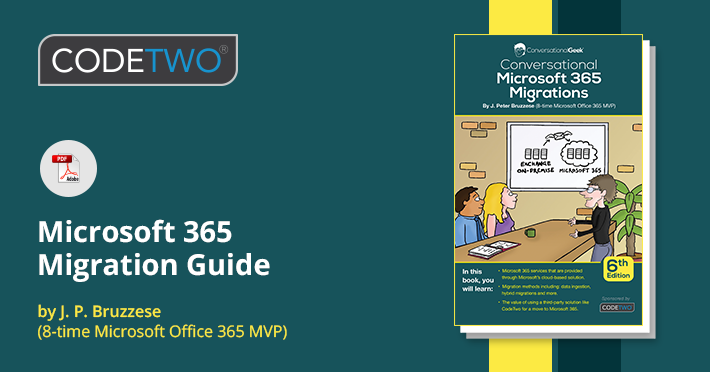 What does "conversational" mean?
The Conversational Geek series of books attempts to approach complex issues in a way that is fun and makes them easy to read. The purpose is to increase the readers understanding of the subject without overwhelming them with excessively difficult terminology, concepts, or ideas. The 6th edition of Conversational Microsoft 365 Migrations also follows these principles and is a great source of helpful information.
What you'll learn from the book
The most important part of the book focuses on migration from on-premises Exchange to Microsoft 365. Here, J. Peter Bruzzese discusses the key aspects of sending your users' data to the cloud, including selecting the right migration method and proper migration planning. Then, he goes on to describe different migration options that are available for your organization when using the native Microsoft migration tool. Finally, he covers some basics about a hybrid deployment involving both an on-premises Exchange server and Exchange Online (Microsoft 365).
In the next chapter, J. Peter Bruzzese focuses on using a third-party product, namely CodeTwo Office 365 Migration, to perform the migration. The chapter lists many security-related technologies used in our program and gives you a quick overview of its major features. It also enumerates the exciting advantages our migration tool has over Microsoft's built-in migration solutions, including among others: single-hop migration from legacy versions of Exchange to Microsoft 365, no limitation imposed on the number of migrated mailboxes and no impact on end users during and after the migration.
What's new in the 6th edition
If you are familiar with the previous editions of the book you might have noticed some changes. The first one is in the title of course. When Microsoft dropped the Office 365 name in its product line, it was reasonable to change the name of the book as well. But more importantly, since Microsoft 365 has become so popular over the past few years, it really does not need an extensive introduction anymore. Instead, J. Peter Bruzzese focuses on matters that are really big to all Microsoft 365 users as well as those who are thinking about migrating to it from on-premises Exchange servers – the latest news from Microsoft.
If you would like to read J. Peter Bruzzese's Conversational Microsoft 365 Migrations, download it for free: