The end of the year 2012 has been extremely busy for our software developers. Over the past weeks they have been working on several major updates to our programs and the effect of their effort can now be seen on our download site. This time, updates to our two Outlook-dedicated products have been released. If you happen to use CodeTwo Public Folders 5.x or CodeTwo Email Signatures, feel free to update your applications to the latest version at no cost.
CodeTwo Public Folders 5.0.5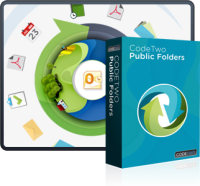 From the very first release of the new version of CodeTwo Public Folders we have been constantly working on improving the program. Since then our programmers have added several bug fixes and new features to it. Take a look at the full list of changes applied to CodeTwo Public Folders at version history page.
And here's just a selection of the most important ones:
Support for Outlook 2013 and Windows 8.
Improved Syncing Master connection stability.
Several bug fixes and programmatic improvements.
To successfully perform the update on your CodeTwo Public Folders network, the Syncing Master and all Client Apps need to be re-installed. After you download the new installer, launch it on every machine and the old version will be replaced with the new one. All licensing info and user settings will remain unchanged – provided that you own the 5.0 version or higher. The update is free of charge for all CodeTwo Public Folders 5.x owners.
Download CodeTwo Public Folders 5.0.5
CodeTwo Email Signatures 1.0.12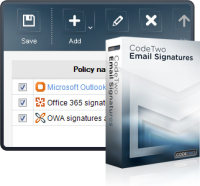 CodeTwo Email Signatures is the youngest tool in our product family. It was designed for managing signatures and disclaimers in Microsoft Outlook, Office 365 and OWA (Learn more here). The recent release includes 2 minor changes that have been requested by users recently:
New: The Set permissions button allows the user to set the impersonation permissions for the administrator of Office 365.
Fixed: The Signatures folder where the signatures of MS Outlook are stored was not correctly detected by the program in several language versions.
To update CodeTwo Email Signatures download the new installer and run it. After the installation is completed all your previous settings and licenses will remain unchanged.
Download CodeTwo Email Signatures 1.0.12
Should you have any doubts or questions, our technical support team is always willing to help you.
Thank you for all your bug reports and feature requests. We wish you all the best in 2013!