Since we do a lot of applications for Outlook, we also use them in our everyday work. We use CodeTwo Public Folders and CodeTwo Exchange Rules. Some time ago we created a program for ultra-fast and automatic email account configuration. We love this app so much that we decided to share it with you! We have just released a free tool called CodeTwo Outlook AutoConfig. It's an amazingly easy application that automatically configures an email account in Microsoft Outlook, Outlook Express, Windows Mail or Windows Live Mail. If you want to use any of the above-mentioned email clients, you no longer need to know any technical details like SMTP and POP3 addresses, mail server port numbers, encryption methods, etc. Using CodeTwo Outlook AutoConfig, you can create your email account in split second only by providing your email address.
Download CodeTwo Outlook AutoConfig and launch it. Enter your email address – a suggested Display name will appear beneath. Display name is what is shown to recipients instead of your full email address. Naturally, you can change the display name to anything you want, e.g. your name and surname.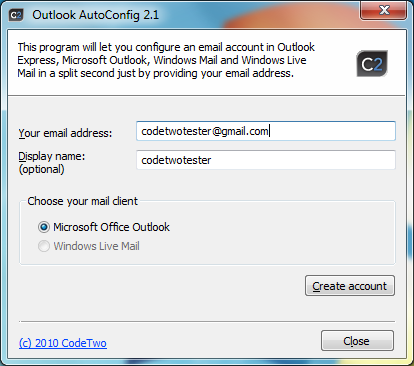 Select your email client and click Create account. Note! If your mail client is currently opened, you will need to restart it for the changes to take effect.
Your email program will ask for your password (the one you always use for this particular email address). Enter your password (make sure it is correct), check if Save this password in your password list is selected and click OK.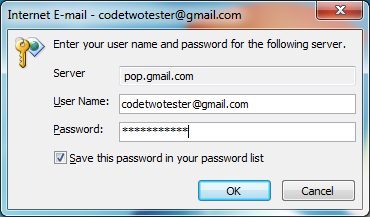 This is all you need to do to create your email account in Outlook, Outlook Express, Windows Mail and Windows Live Mail. Don't wait and download CodeTwo Outlook AutoConfig – it's easy-to-use, it's quick, it's free!
Learn more about CodeTwo Outlook AutoConfig
See other CodeTwo Freeware tools
Visit CodeTwo Official Website