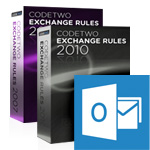 We have just released an update to CodeTwo Exchange Rules 2007 and CodeTwo Exchange Rules 2010, our signatures and disclaimers management tools for Microsoft Exchange admins. The programs are now fully compatible with Microsoft Outlook 2013 mail.
As usual, we advise all users to install the latest version. The update is free of charge for all CodeTwo Exchange Rules 2007 3.x and CodeTwo Exchange Rules 2010 2.x license owners. Feel free to download the installers from these websites:
Download CodeTwo Exchange Rules 2007 update
Download CodeTwo Exchange Rules 2010 update
If you have any doubts or questions, our technical support team is always willing to help you. Click here to contact them directly.
For those of you, who didn't get to know these products so far we have prepared this presentation:
For more information about these tools go to this page (for Exchange 2007) and to this page (for Exchange 2010).
Happy Holidays and all the best in 2013!