CodeTwo Backup solutions provide an easy and reliable way to back up and restore Office 365, Exchange, SharePoint and OneDrive for Business data. The new version of CodeTwo Backup for Office 365 & CodeTwo Backup for Exchange is another step towards providing the most comprehensive backup and disaster recovery solution for your organization. The most important changes introduced with this update are:
support for Office 365 group mailboxes,
a new licensing model.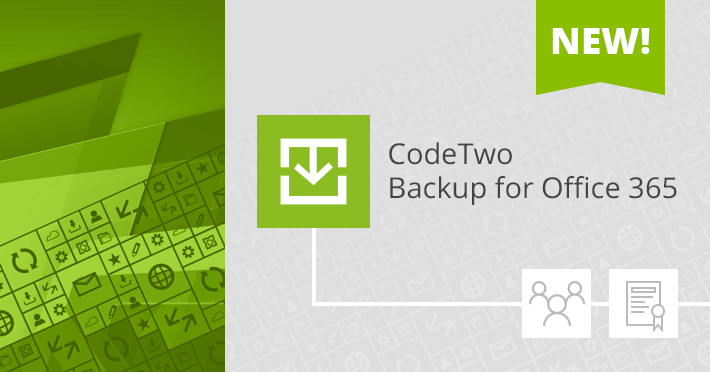 Support for Office 365 group mailboxes
Office 365 groups are the hub of collaboration in Office 365. They integrate with Teams, SharePoint Online and Exchange Online. Now, CodeTwo Backup can perform full and incremental backups of Office 365 group mailboxes and restore them at any time. The software handles the process in the same way as for ordinary user mailboxes, so you can jump right in and launch the new jobs or add Office 365 groups to your current backup jobs.
Updated licensing
We have changed the licensing model to make it even easier to back up multiple workloads and all your Office 365 resources.
What does it mean for the current users?
The pricing has not changed, but the new licensing is simpler – one user requires one license, no matter what kind of data you back up. To create backups of shared resources, it is enough to license all users that have access to these resources. In other words, by assigning a license to each user in your organization, you can back up all mailboxes, public folders and SharePoint sites, with no additional licenses required. The backup of public folders and SharePoint sites no longer depends on the size of data on the source server.
How to update
To update CodeTwo Backup, you can either click the Check for updates link in the program, or use one of the following links:
Download the newest version of CodeTwo Backup for Exchange
Download the newest version of CodeTwo Backup for Office 365
When you update the software to the newest version, all your licenses will be displayed as unassigned. They will be assigned automatically whenever a backup job is run (either automatically, if you have scheduled jobs, or manually). All your settings and configured jobs will remain unchanged after the update.
For a more detailed licensing information, visit the Licensing section of the user's manual. If you have any additional questions, contact us at any time. We're available 24/5.