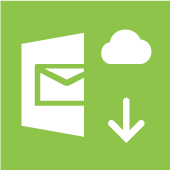 We have just released the first official update to our youngest product, CodeTwo Backup for Office 365. The program had its premiere just a few weeks ago. It is the first full-blown solution on the market allowing Office 365 administrators to create, keep and restore local backup copies of Exchange Online mailboxes.
The newest release introduces an important security feature enabling password-protection of local storages in which Exchange Online backups are kept. It is also now possible to set password authentication for server connections used by the application.
For a full list of changes, please go to the version history page. The update is free of charge for all current license holders.
NOTE: Storages and server connections created in the program prior to the update will not feature the password protection function. This function is available only in storages and server connections created after performing the update to CodeTwo Backup for Office 365 1.1.0.
Download CodeTwo Backup for Office 365 1.1.0
How to update CodeTwo products