We have just released new, updated versions of CodeTwo Backup for Office 365 and CodeTwo Backup for Exchange. The version 2.1 introduces new features, which have been developed in response to your most frequent feature requests, namely:
SharePoint & SharePoint Online retention and archiving,
OneNote backup.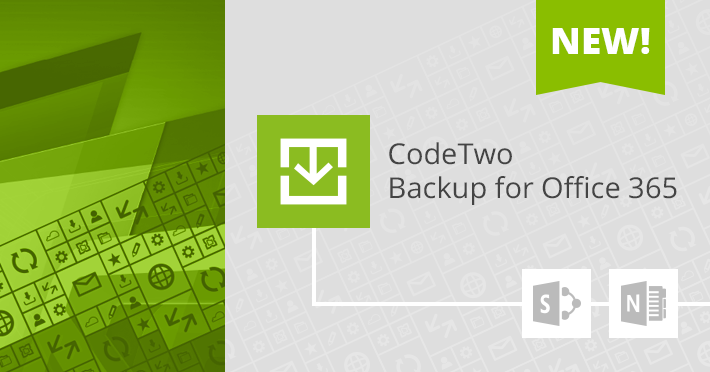 Thanks to this update, the program has become an even more complete backup and restore solution for your Office 365 and Exchange organization. Read on to learn more about the newest features.
SharePoint retention and archiving
Up until now, retention and archiving features were enabled only for Exchange backup jobs. Now, you can set up retention and create archiving jobs for SharePoint Online jobs, as well.
Retention allows you to keep your storage growth under control – it is a setting which automatically deletes data that meets specific criteria. The key point to understanding why retention is useful is to think about the primary purpose of a backup – it is there so that you can restore data whenever needed. While in some cases, 1-1 copy of a database might come in handy, usually it is enough to keep only a few latest item versions. It might also be reasonable to delete items from the backup a certain number of days after they have been deleted from SharePoint. Learn more on SharePoint backup retention in the user's manual
There might be lists or specific documents you might want to keep backed up indefinitely, along with all their previous versions. In those cases, it is advised to create separate backup jobs for those specific resources and set up the retention policy to keep backups indefinitely, or create an archiving job.
The next introduced feature is SharePoint archiving. Archiving gives you a chance to create complete copies of your SharePoint structure and data, including the data that has been subject to backup retention. Older data might turn out to be required after it is long gone from your tenant, for example, in case of an ongoing litigation. Archiving has its own, separate retention settings which allow you to automatically delete the oldest backup copies, or keep a specific number of archives. You can also turn off the archive retention if this option fits your needs best. Learn more about archiving jobs in the user's manual
To learn more about differences between archive vs. backup, take a look at this infographic.
OneNote backup & restore
To help you keep all of your data safe, the newest version of CodeTwo Backup allows you to back up & restore all OneNote notebooks in your Office 365 organization. When choosing to search through a backup copy, you will be able to preview specific OneNote sections. Since OneNote notebooks are special types of folders in SharePoint Online, their backup & restore actions are a part of SharePoint backup jobs.
Download the newest version now!
To update your CodeTwo Backup version and benefit from those new features, use one of the links below to download the setup file and run it on a machine with the previous CodeTwo Backup version installed. The setup wizard will update the software, while retaining all your settings and existing backup jobs.
If there are any features you believe our backup solutions need, please contact us to submit your feature request.