End of Mainstream Support for Exchange 2016 is planned for October 13, 2020. It means that 5 years after its release, this on-premises server enters the Extended Support period. The end of extended support (or end of life) for Exchange Server 2016 is planned for October 14, 2025. Read on to learn how this affects you, what to do next and what will be the last on-premises Exchange version.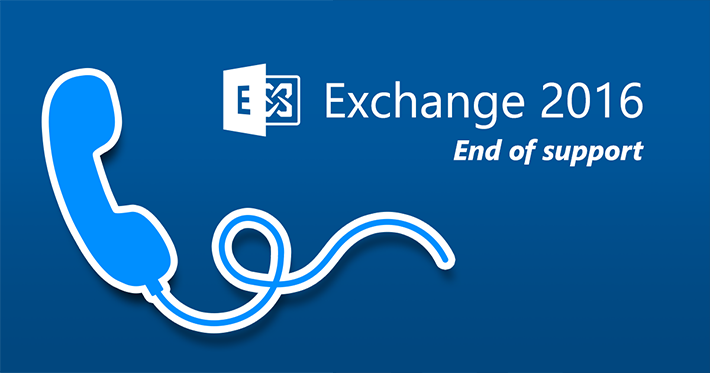 More about the Exchange support cycle
Exchange Server 2016, like (almost) every other on-premises Exchange Server, has a Fixed Lifecycle Policy. In short, it means that it has three support periods:
Mainstream Support – when a product is fully supported. During this period, Exchange Server receives regular bug fixes, security updates and new features. That is also the timeframe during which you can request to change the product's design, request features, report bugs and contact support. Mainstream Support lasts for 5 years after a certain Exchange Server version is released.
Extended Support – in this stage, Exchange Server will not get Cumulative Updates but will continue to receive security updates.
Beyond the End of Support – that's when a certain Exchange Server edition becomes unsupported. Although some companies continue to use Exchange Server after the Extended Support period ends, it is not recommended. You shouldn't expect bug fixes or security updates and if you encounter any problems – you can rely on your own expertise and some technical forums.
Exchange 2016 enters the Extended Support period on October 13, 2020. Five years after this date, it will reach its end of life. What's interesting, the next Exchange version, Exchange 2019, will reach its end of support at the exactly the same day (October 14, 2025). It makes many companies wonder: what's the point of migrating to Exchange Server 2019? Especially since when it comes to rolling out new features, the focus is on providing them for Exchange Online, not the on-premises editions. See what's new in Exchange 2019 for more details.
What next?
Your next steps depend on your long-term plans. The main question is: are you planning to migrate to Exchange Online or stay on-prem for the foreseeable future?
If you are going to migrate to Microsoft 365
If Microsoft 365 and Exchange Online is where you see yourself (your company mailboxes, that is) in the nearest future, you can perform a migration to Microsoft 365. You have a few migration options:
Hybrid migration – in this case, the on-premises Exchange is used for recipient management. Since Extended Support period includes security fixes, for the time being, Exchange 2016 can be used in a hybrid environment for recipient management purposes.
Cutover migration – in which you move mailboxes straight to Exchange Online. It lets you minimize your on-prem infrastructure.
For more information on how to migrate to Microsoft 365 and make this process easier, refer to this article.
If you are going to stay on-premises
If you intend to stay on-premises (for example, for security or compliance reasons) you need to keep in mind that the Extended Support period for Exchange 2016 and Exchange 2019 ends on October 14, 2025. Keeping an unsupported Exchange is not a good idea from the perspective of risk management. At Microsoft Ignite 2020, the Exchange team announced that Exchange 2019 will not be the last on-premises Exchange version. Read on to learn more about Exchange Server vNext and what we know about migration to this yet to be published version.
The last on-premises Exchange version
Microsoft Exchange Server vNext is supposed to be the last Exchange Server ever. There's not much info about it yet, but even now it's clear that this Exchange is going to be unlike any other.
Greg Taylor in his online session Exchange – Here, There and Everywhere (which you can watch at this Microsoft's page) announced the big news about the Exchange vNext. Unfortunately, the big news is that there is no news yet. However, there are some general pieces of information we can learn from the session:
Exchange Server vNext will be subscription-based. That's a first for on-premises Exchange versions. The upside is that, at the moment, there are no plans to stop supporting it. Updates & support will be provided for all active subscribers. The downside – the ongoing cost, which was one of the reasons why some companies refrained from migrating to Microsoft 365.
The planned release date for Exchange vNext is the second half of 2021.
Two unique features concerning migration. First – coexistence with Exchange 2013 will be supported. Which means that native double-hop migration would be required only for Exchange 2010 and older versions). Second – for two years after the release, admins will be able to perform an in-place upgrade. In other words, migration from Exchange 2019 should be as easy as applying a CU.
More detailed info is likely to be announced in early 2021 and I'll be sure to cover it on this blog. Stay tuned!