How to manage email of a former employee (automatic replies, email forwarding, and more)
This article explains how to handle situations when somebody tries to contact a person who no longer works in your company. We will show you how to use CodeTwo software to set up automatic replies (out of office messages) for former employees, forward their incoming emails to another person, or block emails from reaching their mailboxes.
The default MS Exchange Server behavior in such cases depends on the status of your former employee's mailbox account. If the account is removed and somebody tries to send an email to this account, Exchange sends a non-delivery report (NDR) to this sender, which might not be the best way to deal with the situation. This article helps you manage how Exchange should behave in this and other kinds of scenarios. See the sections below to learn more.
The account of a former user still exists in Active Directory
Let's assume that a person no longer works in your company, but their user account still exists in your Active Directory (even if it's disabled). In this scenario, you can use CodeTwo Exchange Rules Pro to control what to do with messages sent to this account. In this section, we will show you how to:
configure automatic replies for such an account,
forward emails that are sent to this account to another email address (e.g. of a supervisor or manager),
block emails from reaching this user's mailbox.
Important
For the solutions below to work, the mailbox of your former employee cannot be disabled or deleted.
First, ensure that the AD account of the user is disabled so that the user can no longer log in.
Launch CodeTwo Exchange Rules Pro and create a new empty rule. Name it as you like.

On the Conditions tab of the rule, set the following condition: Recipient is disabled in AD (Fig. 1.).


Fig. 1. Configuring the rule's conditions.

This condition ensures that the rule is executed only for people whose AD accounts are no longer active. If you need to limit the scope to a specific group, you can add another condition, e.g. Recipient belongs to AD group [group-name].

On the Options tab, set the rule in the following way: If this rule is applied > Stop processing next rules (Fig. 2.).

On the Actions tab, specify what to do with emails sent to your former employees:

Set an automatic reply (out-of-office message) for a former employee
You can configure the CodeTwo software so that the sender receives an auto-reply message (e.g. in an HTML format) instead of a non-delivery report: add the Auto respond action and configure an automatic reply template for your former employees. You can include the employee's AD attributes, such as their display name, in the reply.
Learn how to use the Auto respond action
Learn how to add AD attributes to messages
Forward messages sent to your former employees to another email address
CodeTwo Exchange Rules Pro allows you to forward emails whose recipients are no longer working at your company to your current employees. You can do that by configuring the Forward message action.
Learn how to use the Forward message action
Note that original recipients (former employees) will still receive these messages unless you configure the Block message action as shown below.
Block your old users' mailboxes from receiving messages
If a person no longer works in your organization and should not receive messages, disabling their mailbox is not the only option. You can also prevent emails from being received by using the Block message action. Note that this action needs to be placed as the last one on the list of actions.
Learn how to use the Block message action
The AD account of a former user does not exist anymore or never existed
If there are Active Directory user accounts that no longer exist (including their mailboxes), you can recreate these AD accounts and mailboxes and follow the steps from the previous section to control what happens after emails are sent to these mailboxes. The same applies to email addresses that have never existed before in your domain, but some people tend to write to these addresses anyway. Recreating accounts, however, can be extremely time-consuming if you have a large number of users.
Another approach is to create a fake disabled AD account with an active mailbox and add the email addresses of former users as aliases of this mailbox. Then you can use CodeTwo software to manage the former employees' mail - our program can send automatic replies from this new mailbox, forward emails, and more.
Important
Our software is not able to intercept messages sent to email addresses (mailboxes) of AD accounts that do not exist in your organization.
You can create a new user and add additional email addresses (aliases) in the Microsoft 365 admin center. See the steps below for the current version of the admin center:
Log in to the

Microsoft 365 admin center

.
Navigate to Users > Active users.
Use the Add a user button to add a new user (Fig. 3.).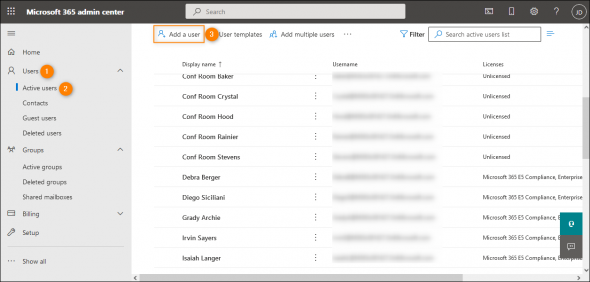 Fig. 3. Adding a new user in the Microsoft 365 admin center.
In the pane that opens, fill in the necessary details, for example use AutoRespond as a Display name, as shown in Fig. 4. In the next steps of the wizard, configure the user in the way that you like and click the Finish adding button at the end. Your new user should appear on the users' list in the Microsoft 365 admin center.
Tip
When you create a new user, you need to assign them an available Exchange Online license in the second step of the wizard. Otherwise you will not be able to edit Exchange properties of that user's mailbox.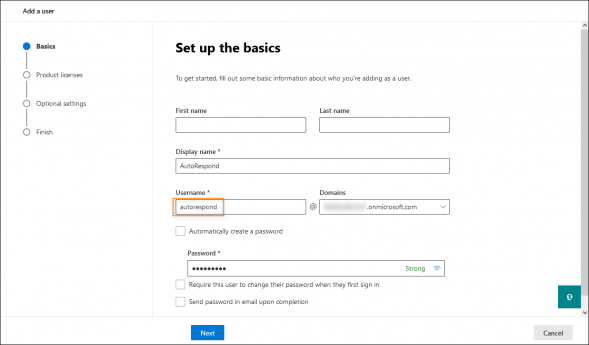 Fig. 4. A new user creation wizard.
Click the user. In the pane that opens, go to the Mail tab and click the Edit Exchange properties link (Fig. 5.).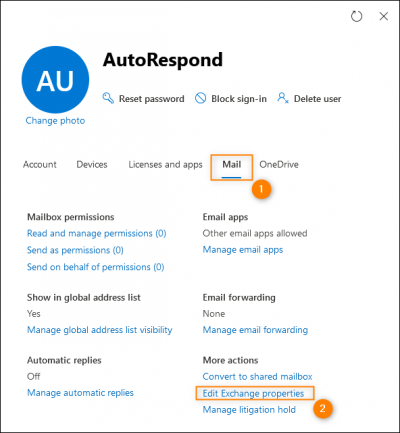 Fig. 5. Accessing the Exchange properties window.
Go to the email address section and add your former employees' email addresses as aliases for the created mailbox, as shown in Fig. 6.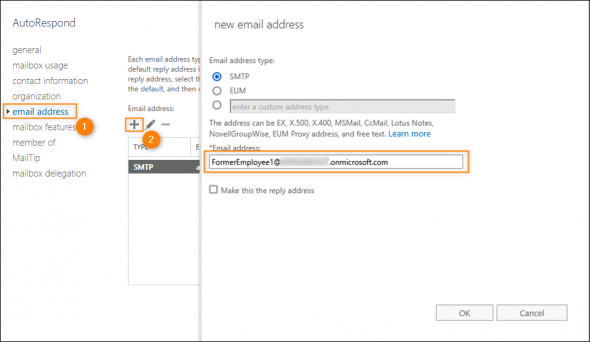 Fig. 6. Adding a new email alias to a mailbox.
Once the new mailbox is created and all email addresses of your former employees are added as aliases, you can configure the CodeTwo software to manage automatic replies to emails sent to these addresses, forward emails, and block messages:
Open CodeTwo Exchange Rules Pro and create a new empty rule.
On the Conditions tab, add the following condition: Recipient is AD user <user>, where <user> is the previously created user (mailbox), e.g. AutoRespond. With this condition, the rule will be triggered by messages sent to the email addresses (of former employees) added as aliases to this mailbox.
Switch to the Options tab and set the rule in the following way: If this rule is applied > Stop processing next rules (see Fig. 2.).
Go to the Actions tab and define how to handle emails sent to the addresses of former employees:

Set an automatic reply message for all former employees
Add the Auto respond action and compose an automatic reply for all former employees. Now, when someone sends an email to the email address of your ex-employee, they will receive an auto-reply message instead of a non-delivery report. Since the template is common for all former employees, you should not include any AD attribute placeholders.
Learn how to use the Auto respond action
Forward messages sent to your former employees
Add and configure the Forward message action, and emails sent to your former employees will be forwarded to another person.
Learn how to use the Forward message action
(Optional) Prevent emails from reaching your mailbox
You can also prevent emails from being received by using the Block message action. Note that this action needs to be placed as the last one on the list of actions.
Learn how to use the Block message action