Installation of CodeTwo Public Folders and default mail client error
Problem:
Error during installation CodeTwo Public Folders client for default mail.
User installing the Outlook Add-in (client module) of CodeTwo Public Folders may encounter an error which reads that Microsoft Outlook is not the default mail client for this system. This may take place even though Microsoft Outlook has been selected to be the default one.


Fig. 1. Error installing the Outlook Add-in of CodeTwo Public Folders. The default mail client other than Microsoft Outlook.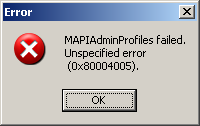 Fig. 2. Error installing CodeTwo Public Folders.
Solution:
If the above errors display, the following steps must be taken to make Microsoft Outlook the default mail client:
Open Internet Explorer.
Choose from the top menu Tools and Internet Options.
Go to Programs tab and select Microsoft Office Outlook for

E-mail, Calendar and Contact List.
Now the installation should be restarted.
Applies to: CodeTwo Public Folders 4.0, 4.5, 5.x
Categories: Troubleshooting
Last modified: 2018-01-19
Created: 2009-01-16
ID: 70
Keywords: Outlook Express, Microsoft Outlook, default mail client, MAPI, Mapi profile, MapiAdminProfiles failed, unspecified error