How to enable reminders in CodeTwo Public Folders in Microsoft Outlook
This article is meant for users of CodeTwo Public Folders. This software has been discontinued. You can check the list of currently available CodeTwo products here.
Problem:
The reminders located in CodeTwo Public Folders are not being displayed. So if you create a reminder, a following message box will appear: The reminder for 'Element Subject' will not appear because the item is in a folder that doesn't support reminders. Is this OK? – and the reminder itself will never appear.
Solution:
If you want Outlook to show reminders for the items located in C2PublicFolders tree, follow the steps below:
Select the view "Folder list" - in the menu choose Go, Folder list (CTRL + 6).
Click RMB on C2PublicFolders
In the pop-up menu, choose Properties for 'C2PublicFolders'.
In the Properties tab tick "Display reminders and tasks for this folder in the To-Do-Bar" and approve changes (Fig. 1).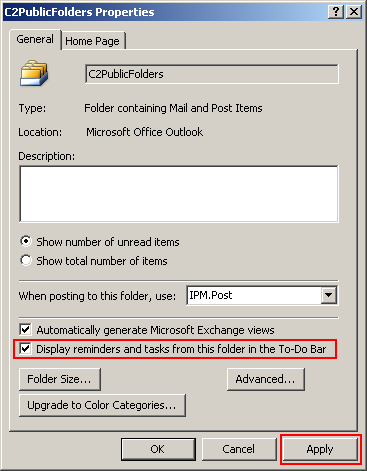 Fig. 1. Enabling reminders for C2PublicFolders tree.
Now when you restart Outlook, reminders will appear also for the items located in C2PublicFolders. Tasks located in this PST file will appear in the To-Do-Bar.
Appointments and events from Calendar folders that include reminders will not appear in the To-Do-Bar. This is standard behavior of Outlook.

---
| | |
| --- | --- |
| Related products: | CodeTwo Public Folders 4.0, 4.5, 5.x |
| Categories: | How-To |
| Last modified: | April 4, 2019 |
| Created: | August 8, 2008 |
| ID: | 13 |