Global encoding for outgoing messages at Exchange
Problem:
How to enforce the same encoding in all Outlook clients globally.
Solution:
The correct choice of encoding for outgoing messages is sometimes necessary for faultless display of national characters in footers composed in languages such as Swedish, Greek, Spanish, Danish, etc. added by CodeTwo Exchange Rules family programs. The configuration of the encoding can be done directly in Outlook, which can be a solution only if we want to test the functioning of the program for one or several users. If however, we want to run the program on a production server, modifying settings for each and every client may prove too troublesome. In this case what we need to do is set a global encoding policy for Outlook users at Exchange.
We will be using Group Policy Editor and we will need a ADM file for Outlook used by our users.
If you do not have the ADM file dedicated to Outlook version used by the users, you should download one. Please pick appropriate one from the list below:
Run Group Policy Editor. To do so, click "Run", type gpedit.msc in the box and click "Ok".

Add the ADM file by first expanding

User Configuration

, and right clicking

Administrative Templates

. Add the ADM file by choosing

Add

/

Remove Templates

,

Add

and point to the location of the file.
When the file is added, the list will include Microsoft Outlook. Go to Outlook Options, Mail Format, International Options. Double click Encoding for outgoing messages. Set its parameter to Enabled. Now you can choose the default global encoding for outgoing messages. Recommended choice is Unicode (UTF-8).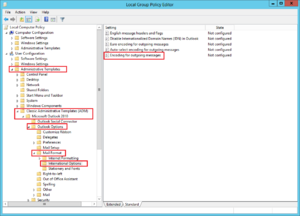 Fig. 1. Group Policy Editor and the location of the template responsible for Outlook settings.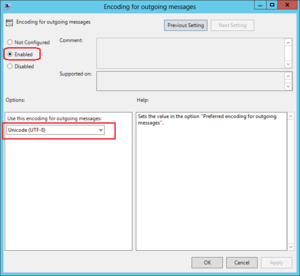 Fig. 2. Recommended configuration of the encoding for outgoing messages.
See also:
Applies to: CodeTwo Email Signatures for Email Clients CodeTwo Exchange Rules 2.x, 3.x CodeTwo Exchange Rules 2007 1.x, 2.x, 3.x CodeTwo Exchange Rules 2010 1.x, 2.x CodeTwo Exchange Rules 2013 1.x CodeTwo Exchange Rules Pro 1.x, 2.x
Categories: How-To
Last modified: 2016-04-21
Created: 2009-01-30
ID: 77
Keywords: encoding, national, characters, outgoing, utf-8, unicode, mail format, outlook, international options, global, group policy