CodeTwo Outlook Reply All Reminder
Don't forget about other recipients ever again

If you have ever taken part in a business group correspondence and at one point skipped the most significant recipients by hitting the Reply button instead of Reply All in your Outlook you have probably ended up losing the deal.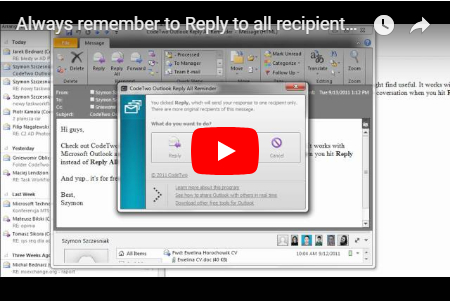 Please note! This is NOT a mobile app so please do not install it on your mobile device. Download the program and install it on your PC with Microsoft Outlook.
Such situations happen to most of us in everyday life and are more common than one can imagine. But do we really have to rely only on our often selective memory? The answer is NO. We've created a solution that won't let you forget about hitting the Reply All button in Microsoft Outlook ever again.
CodeTwo Outlook Reply All Reminder is a free tool that resolves all those "e-mail-reply-boobs" once and for all. It is a typical 'install-and-forget' program so it does not need any configuration. Straight after you install this handy application, you will be notified about other recipients of the original message every time you click Reply.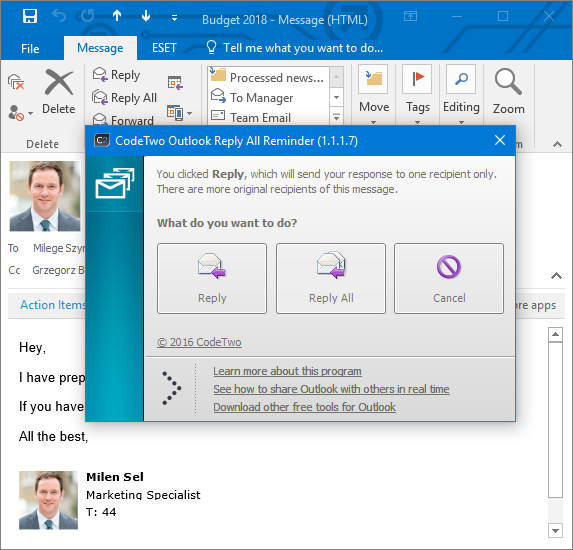 Installation and configuration
Download the installer from our website and launch it. The program will be added as an Outlook Add-in and no further configuration will be required. Once the application has been installed on your computer it will activate the notification window whenever you hit the Reply button in a group message window. Furthermore, it will let you decide between sending the message either to the original sender of an e-mail (Reply) or to all the recipients included in the original message (Reply All).
Note that there will be no changes visible in your email client except the new plugin added to the Outlook Add-ins list. And remember: you do not have to configure anything. From now on you will send your e-mails assured the application will notify you when it is necessary.
Key features
Notification window – the program informs you about other recipients of the original e-mail before you write the reply message;
User-friendly installation – installation is a breeze;
No configuration needed – there is no need to configure the program after the installation.