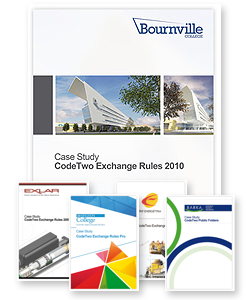 CodeTwo develops highly-specialized software for Microsoft Exchange Server and Microsoft Outlook environments. Bournville College, as well as Kingston College are British schools of further education, offering a number of courses for youth and adults. Silgan Containers Corporation, in turn, is a main provider of metal food packaging in the USA, while PKP Energetyka is a leading seller of electricity in Poland. What do these companies have in common with CodeTwo?
Each of them employs hundreds, to thousands of people, whose daily e-mail correspondence is an essential mean of business and personal communication as well as an important way of promoting the companies' services on a global scale. To ensure this process proceeds smoothly, a reliable and effective program is needed, one that would
enable an easy centralized management of numerous messages constantly travelling via Exchange Server
. Ideally, it would also let unify their look, by
creating professional signatures that contain company logo and employee's contact details
. For this purpose, the above-mentioned institutions and enterprises, as well as many other companies from all around the world, chose
CodeTwo Exchange Rules
or
CodeTwo Exchange Rules Pro
. Some of them provided Case Studies that depict all issues they managed to solve thanks to CodeTwo's products. That is why we have created the Case Study section on our website for the respective programs.
If you are also looking for for an effective tool for managing an e-mail flow or creating professional e-mail signatures, or if you want to use Exchange Server alternative for sharing Outlook data, we encourage you to have a look at Case Studies concerning CodeTwo Exchange Rules 2010, CodeTwo Exchange Rules Pro and CodeTwo Public Folders.
To see other institutions that have been using our software, visit Clients List page. Many customers' opinions we have gathered for the last couple of years have been published on our Testimonials page. You also can add your feedback by completing an easy on-line form. Just click the Add testimonial button, as shown below.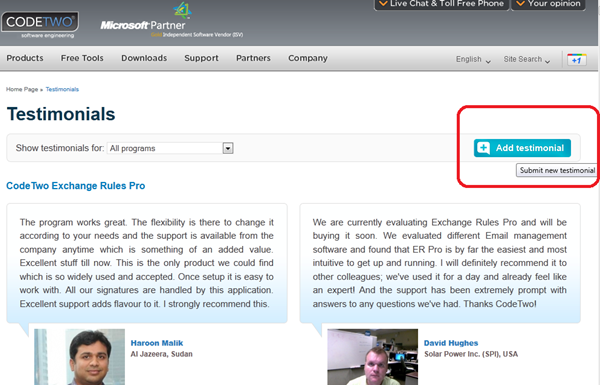 CodeTwo Exchange Rules 2010 – Case Study
CodeTwo Exchange Rules Pro – Case Study
CodeTwo Public Folders – Case Study
Learn why you should choose CodeTwo's solutions