CodeTwo Exchange Folders has been around for a while now, helping Android owners synchronize literally any Exchange calendar, contacts and tasks (public or personal) directly with their mobile phones. But so far the application was missing one crucial feature – compatibility with iOS devices.
This lack did not go unnoticed. Hundreds of users from around the world sent us emails asking when they would be able to use the software to synchronize data between Exchange and their iPads, iPhones and iPods. What they didn't know was that we were already developing a solution to meet their needs. The reason it took so long was because we wanted to get it just right.

And we did! The long awaited iOS compatible CodeTwo Exchange Folders (version 1.1.0) has just been released! You can download the new server module (Administration panel) directly from our website and the Mobile App from the Apple App Store or iTunes.
To deploy the program you have to:
Here's a list of benefits offered by CodeTwo Exchange Folders:
Mobile access to contact, calendar and task folders located in all public and personal mailboxes on your company's Microsoft Exchange Server.
To ensure security all synchronized data are encrypted and travel directly between the mobile device and server (no Cloud storage) via a secure transfer tunnel opened by a TLS protocol and protected by Triple DES 168-bit encryption.
Changes made either on a PC or Android/iOS device are synchronized in real-time and automatically.
Your smartphones/tablets are updated wirelessly all the time via Wi-Fi or mobile Internet, regardless if you're in your office or on the road.
All HTML elements in calendar and task items (font formatting, tables, etc.) are synchronized to and from mobile devices intact.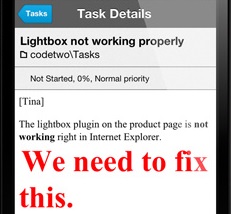 Reminders and meeting requests support.
Administrator's control over access rights and settings.
If you are not using CodeTwo Exchange Folders yet, make sure to give the free 30 day trial a go to see how it works. And if you have any questions related to the application, feel free to contact our Support team.
Download CodeTwo Exchange Folders
CodeTwo Exchange Folders vs Exchange ActiveSync
Frequently asked questions