UPDATE: We are sorry, but CodeTwo Public Folders mentioned in this article has been discontinued. You can check the list of currently available CodeTwo products here.
If you already use CodeTwo Public Folders for sharing Outlook folders between many computers, or are on an Exchange Server account with some public data stored in the Exchange public folders, you have probably already noticed that Outlook categories are not synchronized by means of these solutions. Luckily, there's an easy way to sort it out. Long story short, all you have to do to solve this problem is equip your Outlook with a free extension called CodeTwo CatMan, the rest is very easy…
CodeTwo CatMan is a smart FREE Outlook add-in that allows sharing Outlook categories across many computers via a local connection or through the Internet. The program can be downloaded at no cost from www.codetwo.com.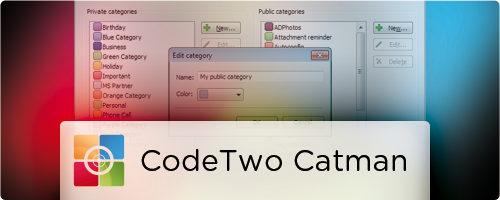 How does it work?
Once installed on all machines featuring Outlook that need to synchronize categories between one another, the program has to establish a connection with a special text file in which the public categories are defined. Although it might sound a bit difficult at the beginning, actually all you have to do to begin synchronizing Outlook categories is create a blank text file in a place that can be accessed by all synchronized machines. This file can be placed either in a locally shared folder or somewhere in the Internet – accessible either over the HTTP or FTP protocols. Once you provide the correct path to it in CodeTwo CatMan's settings, you can start creating your public Outlook categories right away. They will be visible on other computers equipped with the plugin immediately.
Fig.1 Creation of a new public Outlook category in CodeTwo CatMan.

After installing CodeTwo CatMan you will still be able to keep some of the categories private. The program lets you create new categories in Outlook and decide which of them ought to be public and which not.
Watch this video to see how it works:
Learn more about CodeTwo CatMan and download the program
Need to synchronize Outlook items?
If you still haven't found a way to synchronize all Outlook folders between many machines, we've got something more to share with you.
CodeTwo Public Folders, is an award-winning Outlook add-in that will turn your mail client into a real collaboration platform. The program mimics Exchange Server as far as data synchronization in Outlook is concerned and lets you work on shared folders directly in the mail client. At the same time, no high-level technical expertise is required to deploy it in your office. The total configuration time usually closes up in a few minutes!
Learn about CodeTwo Public Folders and test for free!
CodeTwo Freeware
CodeTwo Products