We are pleased to announce that CodeTwo's comprehensive Information Security Management System (ISMS) has been officially certified against ISO/IEC 27001 and ISO/IEC 27018. The certificate proves that CodeTwo cares a great deal about data security. Our ISO-certified ISMS guarantees that we have the best measures in place to ensure information security and to protect your personal data both in the cloud and on-premises.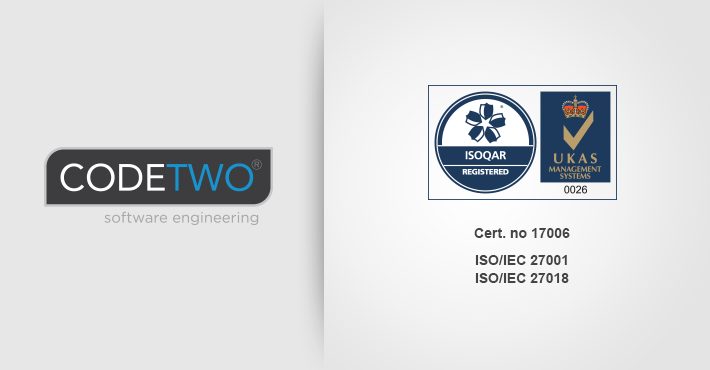 The certificate confirms that our ISMS complies with all requirements set out in both standards. The ISO/IEC 27001 serves as a guideline on how to manage information security in a company, i.e. how to ensure the confidentiality, integrity and availability of that information. The standard also addresses many aspects of data security, including access control, business continuity management, acquisition, development and maintenance of information systems, or information security incident management. ISO/IEC 27018 serves as an addition to ISO/IEC 27001 and establishes best practices for protecting personally identifiable information (PII) processed in cloud environments.
We also draw heavily on our ISO-certified management system during the development process of our software. We adopt the privacy by design and privacy by default approaches by incorporating features related to data protection during the concept phase of any program, and by making sure that all security options are enabled out of the box, without any additional actions from the user.
Check our ISO Compliance Center to find out more about our ISMS, how we've implemented it, how we adhere to ISO/IEC 27001 and ISO/IEC 27018 requirements, and what benefits the ISO-certified ISMS brings to you.