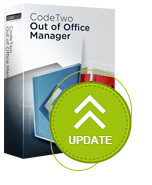 UPDATE: We are sorry, but CodeTwo Out of Office Manager, mentioned in this article, has been discontinued. If you are looking for an alternative for Exchange Server, take a look at the auto respond feature in CodeTwo Exchange Rules Pro.
We have just released an update to CodeTwo Out of Office Manager. Version 1.3 includes two new features and several fixes of bugs users reported recently. If you already own a license for the program, get the latest version now! It's free of charge for all licensed users.
What's new?
Starting from this version, you can now preview the Out of Office message template together with the given user's actual Active Directory data. If the auto-reply template contains dynamic fields, they will be now filled with the given user real AD attribute values in the preview window.
The second change is related to program's recurrence editor. It is now possible to set the duration of recurring items in minutes, hours and days.
For full list of changes, please go to the official release notes.
How to update?
To update the program simply download the latest version from CodeTwo website and install it on top of the existing installation. All your licensing data and program's settings will remain unchanged.
Download CodeTwo Out of Office Manager 1.3.0
About the program
CodeTwo Out of Office Manager is a handy Exchange Server and Office 365 extension letting system administrators, or any other designated persons to centrally manage users' Out of Office replies. Thanks to this solution it is possible to set, edit and remove other users' Out of Office messages without logging in to their accounts. The program can be installed on any machine that has a connection to the given Windows or Office 365 domain. It can be the administrator's PC, but also any other computer, e.g. in backoffice or HR departments.