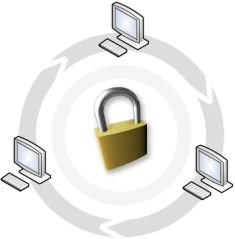 Every day billions of people are exposing their precious data to the vast audience in the Internet. Mostly, they do it consciously and according to their will. But it often happens that some Web users, by trusting (too much) the software they use, reveal crucial corporate data to their business competition or hackers. How come? You must have heard about the case described in this article on Computerworld. The dial-in number and pass code to the weekly internal communication meeting at McKinsey & Co. became public in the Web by placing it in Google Calendar by one of the McKinsey's employees. A silly mistake, one might have thought… Maybe it was, but the case shows clearly that free sync tools provided by such companies as Google suffer a huge lack of security.
Don't get me wrong, I also think that such programs as Google Calendar and Google Sync are great and useful tools that make our everyday life easier. My point is that when it comes to serious business and really secure Outlook data sharing, you will need a lot more than you can get even from a most well-rounded freeware.
So what's the safe alternative? The answer is simple. Using CodeTwo Public Folders you are able to share Outlook folders, like e.g. mail, contacts, tasks, calendars and even documents in a safe network between multiple users. With CodeTwo Public Folders only you decide who can access your precious data and no one outside your network can steal it from you.
So why wait any longer? If you are looking for a safe and reliable solution, download CodeTwo Public Folders from CodeTwo website and get the data sharing abilities of Exchange Server for only a fraction of its price.
Read more about how corporate data slipped out via Google Calendar

Learn more about CodeTwo products