Easy migration between
Office 365 tenants
Easily migrate email and public folders between Office 365 (Microsoft 365) tenants with CodeTwo Office 365 Migration
There is no straightforward native method that would walk you through the migration process between Office 365 (Microsoft 365) organizations. Therefore, if you would like to migrate email from one Office 365 tenant to another, you should get a third-party migration tool.
CodeTwo Office 365 Migration is right for the job. It will let you easily and efficiently transfer mailboxes (primary and archive) and public folders from one Office 365 organization to another. What's more, with this migration solution, you receive a wide range of functionalities that allow you to better organize, monitor and control each stage of the migration process.
Key features:
User-friendly Administration Panel (100% GUI-based)
Support for all mailbox item types and public folders
Automatic creation of user accounts and automatic licensing
Auto matching of source and target mailboxes
Adjustable migration jobs for migrating mailboxes in batches
Detailed reports and real-time notifications on the migration progress
Zero impact on a source tenant and end users' experience
Delta migration for transferring newly arrived mailbox items
Scheduling activity periods of migration jobs
Pausing and resuming the migration process
No PowerShell scripting required
No need for additional tools or services (such as Azure Key Vault)
How it works?
To start using CodeTwo Office 365 Migration, install the application on any workstation from which you can connect to both source and target Office 365 tenants. Once the program is installed, open it and click the Create a new migration job link on the Dashboard tab to configure a migration task. You can also go to the Jobs tab and click the New button.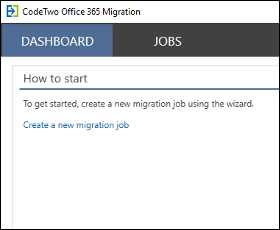 The first step is to set up the source and target Office 365 server connections and select mailboxes for the migration. The server connection wizards will walk you through the entire configuration process.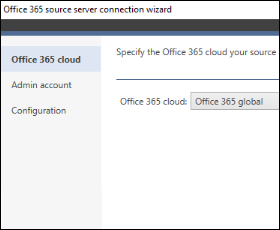 While adjusting the migration job to your needs, you can decide whether you want the program to match the source and target mailboxes automatically or manually. CodeTwo Office 365 Migration also allows you to automatically create user mailboxes on the target Office 365 tenant.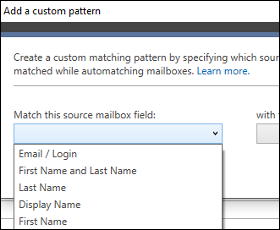 Each migration job can be started and stopped manually or you can set up the Scheduler to let the program run migration tasks automatically at specified time periods. Additionally, you can choose folder types to migrate or specify item filtering based on the items' age.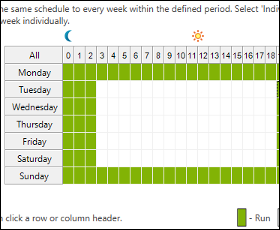 Once you have configured your migration job, you can start the migration of user mailboxes and/or public folders from one Office 365 tenant to another. You can also monitor how each migration job is performing in real time and generate detailed migration reports once the migration is completed.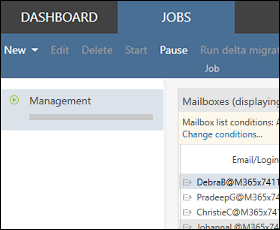 As CodeTwo Office 365 Migration operates in a migration job model, it gives you a wide range of possibilities to adjust migration process to your company needs. By creating different migration jobs, you can group mailboxes into batches and then easily move them from one Office 365 tenant to another.