The option to add different signatures to the first email and different to next emails does not work
Problem:
The option Different signature in the first email and different in subsequent emails does not work correctly in Outlook. If you reply to an email in a conversation thread, and you change the message subject, our software adds the first signature template (see Fig. 1.) to your response, no matter if it's your first or subsequent email in this conversation.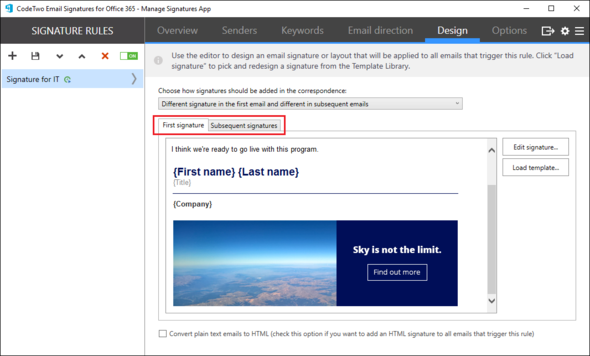 Fig. 1. On the Design tab, you can compose a different signature for the first email, and different for subsequent emails in a conversation.
Solution:
This problem appears only in the desktop versions of Outlook, and it's related to the way Outlook groups messages into conversation threads. If a message subject changes within a conversation thread, Outlook excludes this message from the conversation and treats it as a separate thread. That is why this message is stamped with the first signature template defined in the CodeTwo software. To avoid such behavior, do not change the message subject when replying to emails in conversation threads.
See also: