How to troubleshoot the SenderNotAuthenticatedForGroup error
Problem:
In response to your email, you received a non-delivery report (NDR) with the following (or very similar) error message:
Reported error: 550 5.7.133 RESOLVER.RST.SenderNotAuthenticatedForGroup; authentication required; Delivery restriction check failed because the sender was not authenticated when sending to this group
Solution:
The problem occurs when a message is sent to an Exchange distribution group address for which sender's authentication is required and this condition is not met. This may happen when using CodeTwo Email Signatures for Office 365 or other third-party solutions that route emails through external services. The issue is caused by the fact that Microsoft Exchange (both on-premises and Online) recognizes internal/external senders according to the actual mail flow direction (which, in that case, would be incoming from an external server) instead of comparing the sender's address with its own directory.
Typically, the solution to this problem is to disable the sender's authentication requirement in the recipient's Exchange. To do that, follow the steps below:
In Exchange on-premises, start the Exchange Management Shell or, similarly to Exchange Online (Office 365), connect remotely.
Execute the following PowerShell cmdlet, where

<group_name>

is the distribution group in question:

Set-DistributionGroup <group_name> -RequireSenderAuthenticationEnabled $false
If due to your corporate security policies you cannot apply the solution above, and if you are using CodeTwo Email Signatures for Office 365, you can, as an alternative, exclude this distribution group from the scope of the CodeTwo Exchange transport rule by manually defining an appropriate exception within this rule. This will resolve the issue of NDRs, but you must be aware that this will exclude emails sent to this distribution group from being processed by the CodeTwo Email Azure Service. That means that server-side signatures will not be added to those emails.
To apply this solution, follow the steps below:
Open the Exchange admin center, go to Mail flow > Rules and double-click on CodeTwo Exchange transport rule.
Click Add Exception and select The recipient > address matches any of these text patterns (Fig. 1.) Provide the full email address of the distribution group in question.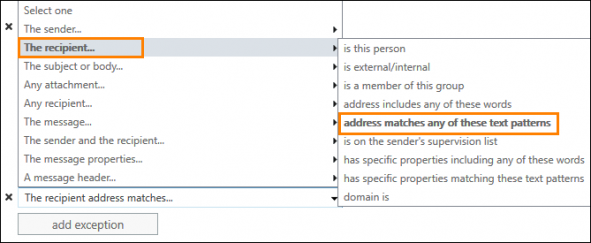 Fig. 1. Configuration of the transport rule exceptions.
Warning
Be advised not to use the The recipient > is this person exception, as it will not work for distribution group addresses.
Save your changes.
See also: