Refreshing the local PST file created by CodeTwo Public Folders
This article is meant for users of CodeTwo Public Folders. This software has been discontinued. You can check the list of currently available CodeTwo products here.
Problem:
CodeTwo Public Folders keeps a local copy of data on the computer with Outlook Add-in (client module) installed. This database contains only data visible to a given user. Problems that occur while using CodeTwo Public Folders may be resolved by refreshing this database. How to do that?
Solution:
First you need to find the location of the PST file in question. The best way to do that is to go to the client application options and check the path to the data file.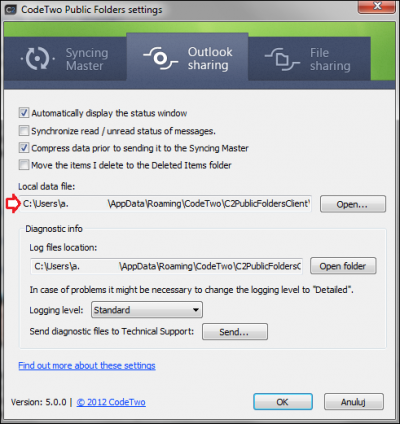 Fig. 1. Location of the data file path in the client application options (version 5.x).

Fig. 2. Location of the data file path in the client application options (version 4.x).
If the path to the data file is not visible in the addin options (as in Fig. 2) you will find it directly in Outlook Data Files settings:
Outlook 2013 - File tab, Account Settings, Account Settings, Data Files tab
Previous versions of Outlook - Tools, Options, Mail Setup, Data Files
Our file is named C2PublicFolders.PST. Upon finding the path please write it down and close Outlook. You will not be able to continue if Outlook keeps running.
Next, we can go on to refresh the PST file - go to the path you noted. For safety, you can make a backup copy of the file. Next, delete the C2PublicFolders.PST file completely.
Be aware that under some Windows versions the Application Data folder where the PST file is being kept is hidden by default. How to view hidden files and folders
If in spite of Outlook being closed, the system reports the PST file is in use, end the OUTLOOK.EXE process in Windows Task Manager. More...
Upon reopening Outlook, a complete synchronization of data must take place. This is when the PST file is recreated and all data is pulled from the Syncing Master (server module). Make sure the synchronization is completed; unfinished synchronization e.g. caused by premature exiting Outlook during syncing, may result in subsequent problems. When the full synchronization is finished, a new C2PublicFolders.PST file will create in the above location.
While deleting and recreating the PST file, the settings related to the shared personal folders may be lost. Unfortunately, it is not possible to back them up. If they are complex, the only thing you can do to restore them easily is to note them down, remembering too about the settings in the access rights to these files.
---
| | |
| --- | --- |
| Related products: | CodeTwo Public Folders 4.0, 4.5, 5.x |
| Categories: | Troubleshooting |
| Last modified: | 2019-06-17 |
| Created: | 2009-01-16 |
| ID: | 73 |