How to configure CodeTwo Public Folders Backup Service to create a backup on network share
This article is meant for users of CodeTwo Public Folders. This software has been discontinued. You can check the list of currently available CodeTwo products here.
Problem:
You are unable to create a backup copy in CodeTwo Public Folders on a network share both manually and automatically, due to insufficient permissions. Additionally, you are finding entries similar to the one below, in you log files:

Error: Folder '\\192.168.0.105\BackupCopies' is not writable. Backup aborted! module: BackupMangerThread.cpp, line: 113, func: CBackupMangerThread::OnRun
Solution:
The main cause of this problem is the fact that CodeTwo Public Folders Backup service is running under a Local Service (a.k.a. SYSTEM) account. This account has no necessary permissions, when it comes to network shares. Unfortunately, there is no option to grant those permissions for such a service, in non-domain environments. You can, however, change the account used by the service to another one and grant necessary permissions to the network share.
In our example there are two machines. The CodeTwo Public Folders software is installed on SERVER-PC machine, which will be configured in order to create backup copies on a machine BACKUP-PC.
On BACKUP-PC machine, create a directory that will later contain backup copies created by SERVER-PC - for an example: C:\backup. The next step is to share this folder in your network. You may do so by following these steps:
Right-click on your folder.
Select Permissions,
Switch tab to Share
Click Share... button.
Assign full access permissions to the desired account (Fig. 1.), existing on BACKUP-PC.
As a result, you should be able to access to this folder by entering its network path (e.g. \\BACKUP-PC\backup). The network path is displayed on the Share tab.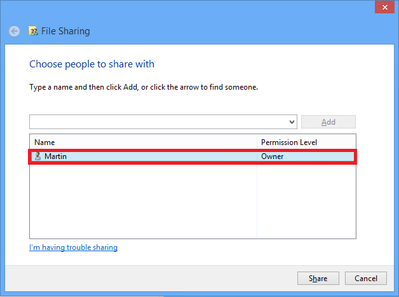 Fig. 1. Sharing destination folder over the network.
Now, log on to SERVER-PC machine with administrative account (e.g. admin), as there is need to change the service configuration. Right after signing in proceed to the steps below:
Run the

services.msc

command to open the Services window.
On the list find a service named

C2PublicFoldersBackupService

.
Right-click the entry and from the context menu select Properties and switch to the Log On tab.
Provide the credentials for any account (in our example we are about to use account named admin), like below:


Fig. 2. Changing user account used by service.

Please note that Log on as a service permission will be automatically added to chosen account.

Restart the service to apply the changes.
Before the backup copy can be created, the user under which Backup service is running (SERVER-PC\admin), needs to access and write on location that is available for the user on second machine (BACKUP-PC\Martin). Long story short, we are going to allow user admin to log in as Martin on BACKUP-PC.
To do so, you may provide necessary credentials in Control Panel. Please follow these steps:
Open Control Panel.
Open Credential Manager and select the Windows Credentials.
On the right side click Add a Windows credential.
On the next step you have to fill in the form using credentials of user used previously to create share on BACKUP-PC machine (in our scenario it is Martin).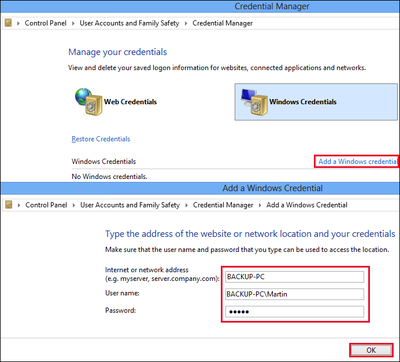 Fig. 3. Granting access on BACKUP-PC machine.
Once it is done, you are ready to go. To create a backup please run the CodeTwo Public Folders Administrator Panel and on first tab open the Backup copy tab. On Automatic backup copy creation, you should be able to use Change... button and to select desired network share.
See also: