How to change a subscription plan in CodeTwo Email Signatures 365
Problem:
You use CodeTwo Email Signatures 365 and would like to change your subscription plan, for example from monthly to yearly.
Solution:
Important
The solution provided in this article does not apply to subscriptions for CodeTwo Email Signatures 365 that have been activated with a product license key. If you purchased the product license key from a reseller, you need to contact them to edit the subscription. If you purchased the product license key from CodeTwo, contact our Customer Service team.
To change a subscription period, you need to:
Cancel your active subscription.
In CodeTwo Admin Panel, go to the Tenants page and click your tenant to open its settings. On the Subscription page that opens, click Cancel subscription (Fig. 1.). In the next window, click CONFIRM CANCELATION.

Info

Cancelation will be effective at the end of your current billing cycle - until then, your signatures will be added in the usual way.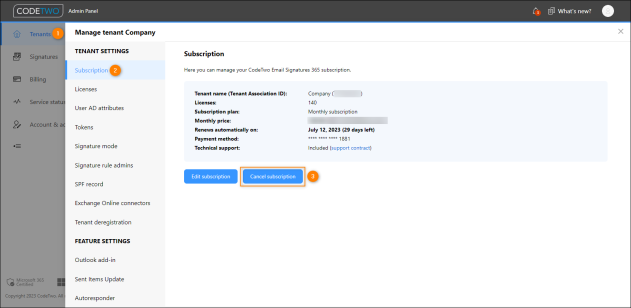 Fig. 1. Canceling a subscription.
Buy a new subscription.
Click Buy subscription (Fig. 2.) and choose a new plan, for example a yearly subscription (Fig. 3.). Type in the number of licenses, select a payment method (or add a new one), and proceed with the purchase.

Important

To avoid double payment, we recommend buying a new subscription right before your current billing cycle expires. The expiry date is shown on the Subscription page (Expires on: [date] - see Fig. 2.).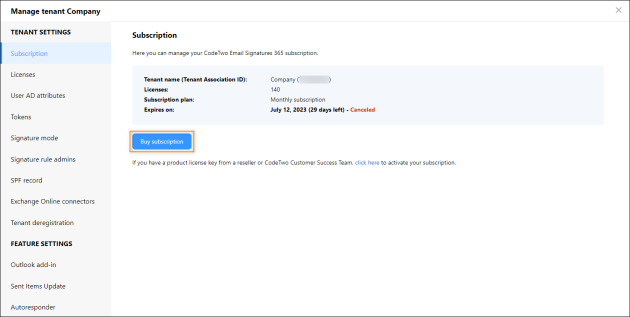 Fig. 2. Buying a new subscription.