I remember when I first installed Office 95 and admired its features with a smile on my face (just like Doc Brown who discovered time travel) – it was over 15 years ago. I mainly used Word 95 then since I did not need Outlook yet. Comparing it to other applications available at that time, it was simply mind-blowing. A few weeks ago I installed Microsoft Office 2010 together with Outlook 2010. To put it bluntly, I was expecting Office 2010 to be a total swizz – another badly written piece of software and a product for those who need to buy upgrades or else they will have sick headaches.
It installed pretty quickly and I launched the most important application for me – Outlook 2010. My jaw didn't drop as low as 15 years ago but probably because I'm older now and very unemotional when it comes to trying new things. It is still Outlook and it still does the same things. There are, however, some improvements:
A new Ribbon

Even though it seemed to me to be pretty bizarre for the first couple of days, I got used to it and can now say it is better than in Outlook 2007. The Ribbon is divided into a Backstage view (File), Home, Send/Receive options, Folder options and View Options. You don't have to dig into the endless list of drop-down menus any more if you need to change some settings.
Backstage view / File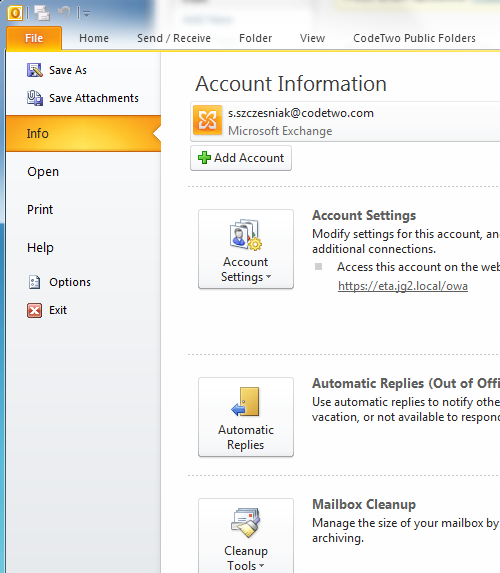 Backstage view is another way of showing options in Outlook and managing files and data. It's not a drop down list any more, but you simply go 'backstage' (main Outlook window is hidden) and you have a list of options with big icons. It looks nice but so far it hasn't been any facilitation for me.
Conversation View in Inbox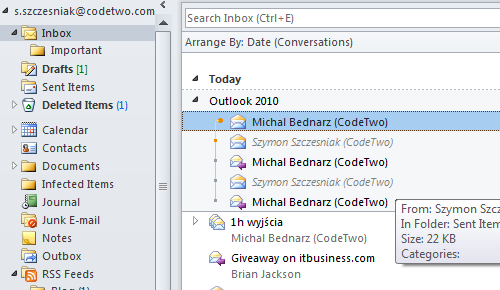 It is the feature many users have been waiting for for ages. It was not possible to create a Conversation View for Inbox in older versions of Outlook. Now I can preview also Sent Items in my Inbox folder and sort my emails like it is done in Gmail. The only disadvantage is that Outlook had not recognized different conversations with the same subject and mixed them up in one thread.
Email Grouping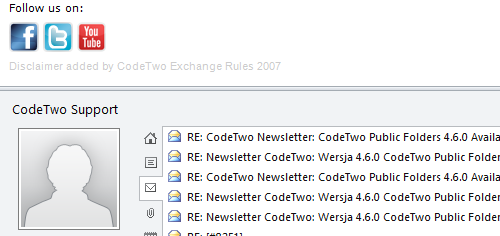 Another interesting feature are email grouping lists right under previewed messages. Whenever you preview a message sent from a certain person, Outlook 2010 displays a list of other messages sent from this person to you. You can also preview all attachments received from this contact and meetings you have together. This is a great email management feature, even better than a Conversation View in Inbox.
Contact actions
I also like Quick Contact Actions. If you hover over a contact name in an email, a list of Quick Contact Actions will pop up. You can quickly schedule a meeting with this person, add her/him to your Outlook or Instant Messaging Contacts (e.g. to Windows Live Messenger) and so on.
CodeTwo Public Folders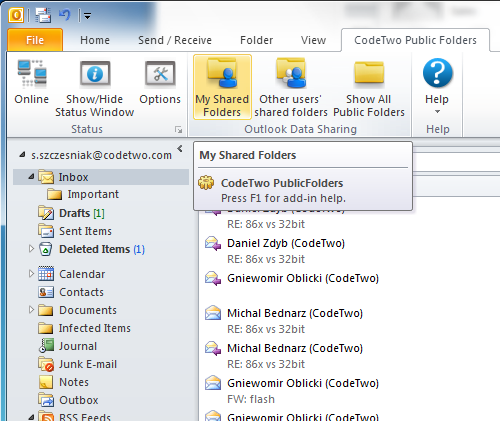 The first Outlook add-in I installed was naturally CodeTwo Public Folders. It installed smoothly without any problems on my Outlook 2010 64-bit. So far I haven't noticed any problems – it works like a charm.
All in all, Outlook 2010 is all it's cracked up to be. I don't want to switch back to Outlook 2007 – like I wanted to switch back to XP after installing Vista.  The program launches faster, works faster and searches faster than any other Outlook I used before. If you are looking for a better Outlook 2007, go get Outlook 2010. You will feel a little bit uncertain when you launch it for the very first time because it's different than other Outlooks. But it has to be different – if there are no changes, there is no progress.