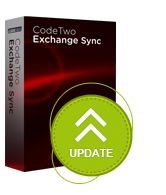 We have just published an update to CodeTwo Exchange Sync. The program is now available for download in version 2.4.3. The current release includes a number of fixes to bugs reported recently by users. For full list of changes, please check the version history.
We recommend that you update your current installations to the current version. Read how to update…
Download CodeTwo Exchange Sync 2.4.3
What is CodeTwo Exchange Sync?
CodeTwo Exchange Sync is an easy-to-use Exchange Server addin that adds a wide range of online collaboration features to it. Most importantly, it enables automatic and real time synchronization of Exchange Server folders in various scenarios. The synchronization can occur in many different ways, e.g. in one-to-many, many-to-many or many-to-one modes. Thanks to the additional features CodeTwo Exchange Sync offers, selected items can be filtered and modified on the fly. CodeTwo Exchange Sync fills the gaps in Exchange Server data synchronization capabilities and can improve the overall productivity of your team by adding completely new collaboration possibilities. It also can help you to solve a common problem of accessing public folders from mobile devices via Exchange ActiveSync.