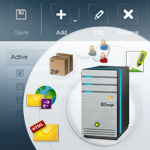 Hi fellow CodeTwo users. Back in September 2011, we mentioned about a lot of new stuff coming down the pike. Since then we have released a new tool and rolled out several new features beefing up our exisitng programs. Our dev teams have been constantly working on a couple of different projects. Two days ago we released CodeTwo Exchange Rules 2010 2.0 (for Exchange 2010) and CodeTwo Exchange Rules 2007 3.0 (for Exchange 2007).
It's not an ordinary upgrade as the applications come with a bevy of new features. We have also hammered out the kinks you had reported in previous verions and entirely revamped the user's interface. All of this to make these Exchange add-ons more useful, powerful and stable. The programs open up the world of new possibilities with signatures and disclaimers.
Take a look at what's new in both of the programs:
Completely new user's interface with new options
Remote access to the program
Rule scheduler for planning ahead your email campaings
Employee's photos in signatures + a free tool to add them to Active Directory
QR codes in email signatures
Signatures as headers
End-user signature control
Advanced rules tester
Settings Import/Export tool
Updated signature positioning mechanism
Improved stability.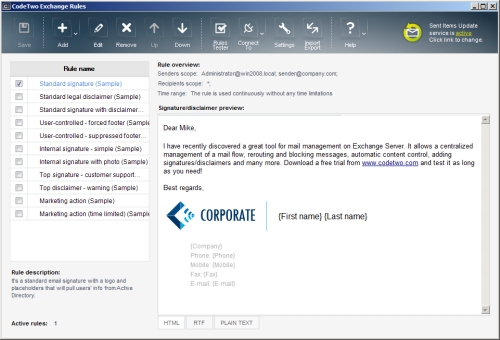 The upgrade is not free of charge, however, you can get it for just 10% of the normal price of the product if you have the previous version. Just head on over to the product's website, hit the Buy button and select upgrade from the previous version.
Deploying the program is as simple as installing it over the existing version of the product. All signatures and settings will remain unchanged.
Learn more about CodeTwo Exchange Rules 2010
Learn more about CodeTwo Exchange Rules 2007
Contact Customer Support – available 24h a day