We are excited to announce that three long-awaited features have been added along with the newest versions of our backup tools CodeTwo Backup for Office 365 and CodeTwo Backup for Exchange. Starting from this version, it is possible to:
archive mailbox data kept in local storages (also to .pst files)
set up a retention policy for items in storages
enable email alerts sent by the program
Archiving
This feature allows you to archive your mailbox data maintained in local storages. We've added three new options: Archive, Import archive and Archive to PST.


Perhaps the Archive to PST feature is the most expected one. All data available in storages can now be archived to a .pst file and then opened via e.g. Microsoft Outlook. Using this option, only the most recent version of items will be saved.
While creating this archive, you can set up a retention policy and decide how many .pst archive files are maintained simultaneously e.g. only last 5 files are kept. You can also set up how the program should act when disk space is considerably low.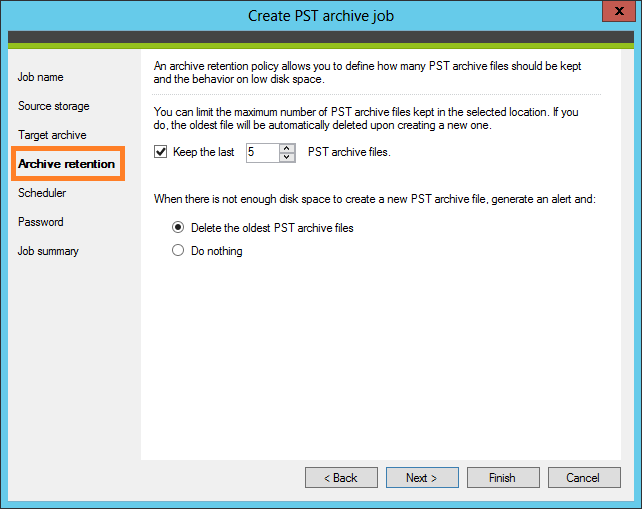 There is also the scheduler option available, which allows defining the activity time range for the .pst archive job as well as setting up the recurrence pattern. If you do not use it, you will need to start the job manually.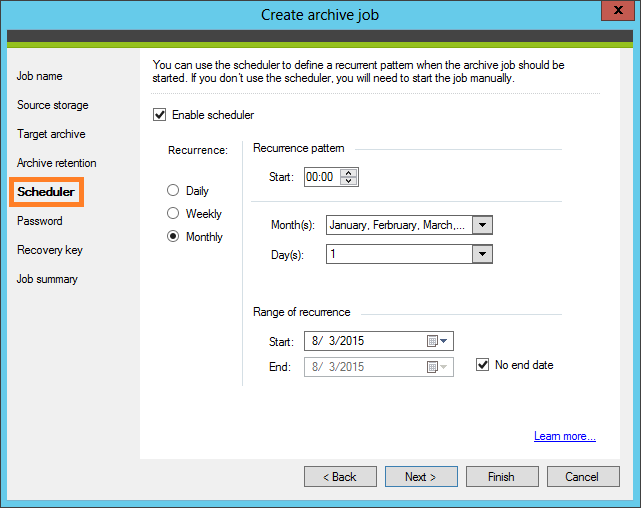 Storage retention
From now on, it is up to you which items will be deleted and when. To have better control over the retention policy, customize the age of items and select specific types of items or folders that will be affected by this policy. Once all configuration options are set up, the program will delete all items older than a specified number of days, e.g. older than 180 days, as well as those of a certain type, e.g. only emails or journals. Additionally, you can set up the retention policy start time by selecting specific time in the program's settings.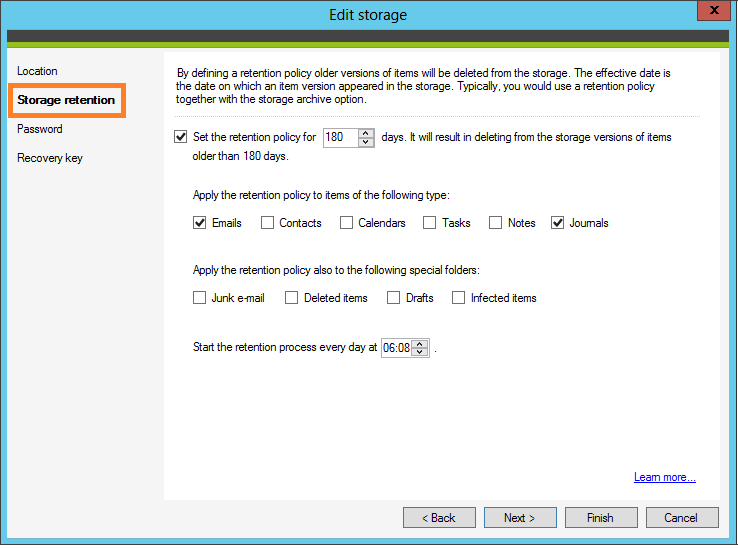 Email alerts
Now you can set up alerts in the Alert's settings under the Dashboard tab and decide what kind of notifications will be displayed and under what circumstances. For example, when there is not enough disk space to create a new .pst archive file, the program will generate an alert and notify you about that via email.
In the Email alerts options section, you need to provide email addresses that will be used by the program to send alerts to.
What is worth mentioning, you will get just one email message with all new alerts collected together into one place. This will prevent the situation when every single alert is sent in a separate email. You can also configure the time range for alerts to be sent "no more frequently than every" e.g. 10 minutes.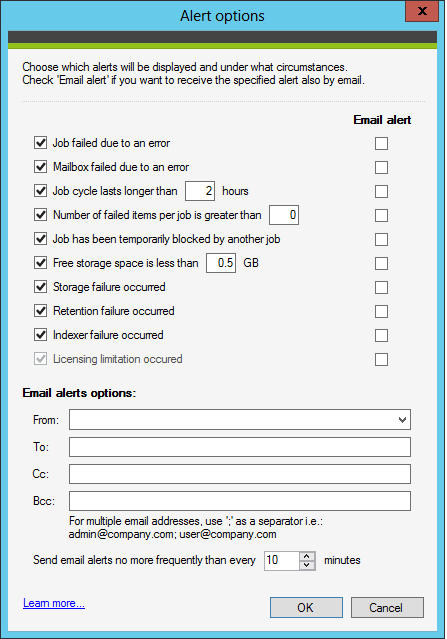 Get the newest version!
Use the links below or visit our official product pages to get the latest version of CodeTwo Backup for Office 365 and CodeTwo Backup for Exchange. All current licensed users of CodeTwo Backup solutions are free to obtain this version at no additional cost.
CodeTwo Backup for Office 365 1.2.0
CodeTwo Backup for Exchange 1.2.0