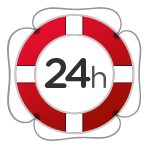 Have a question to CodeTwo and it's 3 am? No problem. CodeTwo Sales and Tech Support teams are awake all the time! Since we want to provide the very best customer support services to our clients, we are now available 24 hours a day, 5 days a week. CodeTwo's Customer Support, located entirely in CodeTwo HQ (and nowhere else as we don't outsource support), is ready to help you via telephone, email and online chat at any time!
We're available during the following hours:
GMT – Global Mean Time -> Sunday 10pm – Friday 10pm
US Eastern Time (New York) -> Sunday 6pm – Friday 6pm
US Central Time (Chicago) -> Sunday 4pm – Friday 4pm
US Pacific Time (Los Angeles) -> Sunday 2pm – Friday 2pm
Western European Time (London) -> Sunday 10pm – Friday 10pm
Central European Time (Paris) -> Sunday 11pm – Friday 11pm
Gulf Standard Time (Dubai) -> Monday 2am – Saturday 2am
Australia Eastern Time (Sydney) -> Monday 8am – Saturday 8am
Don't hesitate to contact us for any sales or technical questions. Our support guys are always happy to assist.

Click here to contact CodeTwo Customer Support
CodeTwo's Website