Licensing
The licensing mode of CodeTwo Out of Office Manager is based on the overall number of different users whose Out of Office messages have been set in the Administration Panel of the program.
For example, you have bought the license for 100 users. When Out of Office messages have been set to four different users, they will be counted by the licensing program, and the number of overall licenses will be reduced by those four licenses. As a result, there will be 96 licenses left to use. Note that a user who has been counted by the licensing system once, will not be counted again while creating any subsequent Out of Office messages for that user.
Important
If you decide to buy a license for less number of mailboxes that in fact exist in your company, be aware that all mailboxes existing in your environment will be listed in the alphabetical order in the Administration Panel no matter if they are licensed or not. Furthermore, to find the licensed mailboxes, please use the built-in Filter.
The number of available licenses is displayed in the bottom right corner of the Administration Panel (Fig. 1.).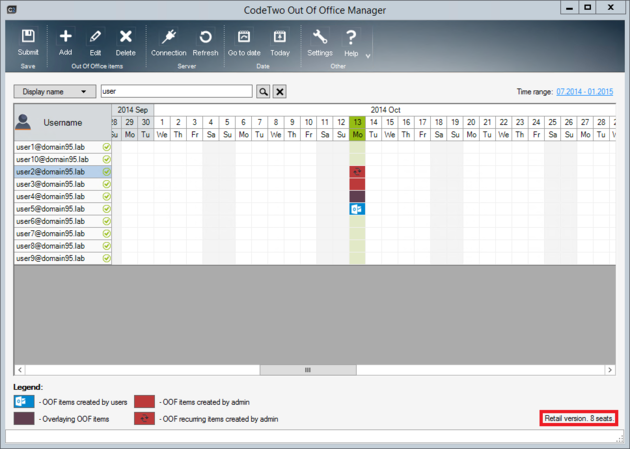 Fig. 1. Activated copy of the program displaying the licensing information.
After the installation, CodeTwo Out of Office Manager works for 30 days without any limitations in its functionality. During that trial period, it can be also deployed for an unlimited number of users. When the 30 days are over the software will cease to work - it needs to be activated with a purchased license key. The licenses are available in pre-defined packages of maximum user numbers for whom the autoresponders can be created. If more time is required to thoroughly test all the features of the software, please contact us.
Warning
Please note that once you activate the program, the mailboxes that the Out of Office (OOF) messages were created for in the trial version, will have the licenses automatically assigned. That's why before performing the activation, buy a license package for all users in your environment. If, however, you want to apply OOF messages to less number of users that actually exist in your environment using the licensed version of the program, make sure the previously created OOF messages refer to those users' mailboxes.
Important
Be aware that once you create an out of office message for a user, a license will be taken and assigned for this user. This assignment is permanent. You cannot reassign once used license. The seat will stay taken forever even if you delete that user from your Active Directory.
See next
Trial version - this article describes how the trial version works.
See also
License Agreement - this article contains the terms and conditions of using CodeTwo software.
Activation - this article describes the activation procedure of the program.